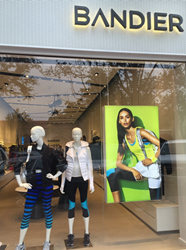 "Fashion, Fitness, and Music is such a huge part of our society today and what better way to bring them all together than into a cool and comfortable communal space for like-minded individuals."
(PRWEB) November 12, 2015
Bandier, the first luxury fashion, fitness, and music boutique, announces the launch of its new retail concept with its opening at the luxury shopping destination Americana Manhasset, in New York. Highland Park Village, Texas and Fifth Avenue, New York to follow.
With a meticulously curated collection of high fashion fitness apparel, Bandier's highly anticipated Manhasset opening includes pieces from world renowned designers, such as Nike, Stella McCartney and Norma Kamali, Under Armour, Lucas Hugh, Michi and Beyond Yoga.
The idea for Bandier took shape when New York City and Southampton resident Jennifer Bandier found herself in a cast up to her knee after breaking her foot. Unable to comfortably wear anything other than fitness apparel, she quickly realized that the clothing she owned was unfashionable and uninspiring. With no stores in New York offering the fashion-inspired fitness apparel she was searching for, she began to compile her own fitness wardrobe using inspiring brands from the around the globe.
Bandier partnered with Two One Two Design, in New York, to create the new retail store concept and elevate the brand's identity in the global marketplace. Two One Two is a leading high-end design firm with an extensive concept and expansion client roster that includes such names as Chloe, Vince, Allsaints, Michael Kors, Elie Tahari, Karen Millen, Scoop, Alexis Bittar, Calvin Klein, Bottega, Veneta and 7 For All Mankind.
"Fashion, Fitness, and Music is such a huge part of our society today and what better way to bring them all together than into a cool and comfortable communal space for like-minded individuals." says Greg Anderson, President of Two One Two Design. "Our whole team knew the potential Bandier represented and we are proud to be part of its growth. " says Patrick Gegen, Senior Designer at Two One Two Design.
Marrying high end, ready to wear clothing and a comfortable, modern approach to design, the concept for Bandier's new retail stores features illuminated neon hang bars suspended by black rubberized cables around the perimeter of the shop, layered against an abstract floor-to-ceiling plaster 3D "rock wall". Cool gray floors and zig zag black ceiling coves overhead run through the space and tie together the neon, metallic threads and black houndstooth wallcovering that pop on the retail floor.
The brand concept also showcases oversized fashion graphics, highlighting "artistry in action" and large format light boxes with rotating aspirational messaging. These supergraphics fuse together to create The World of Bandier. ™
Finally, through the incorporation of a DJ and turntable at the point of sale, neon floor-mounted speakers and theatrical lighting, the brand weaves its roots in the music industry into the display of athleisure apparel. The concept also features a central circular listening lounge where shoppers can kick back with Beats headphones and iPads that stream ever-evolving content curated by Jennifer Bandier herself.
The exterior of the store features large white perforated metal panels which are backlit from within. The clean, streamlined design of the exterior reflects the sleek design of the Bandier collection.