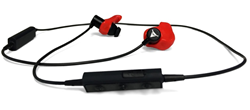 We are very proud of our industry leading headphones and this honor serves as a strong validation for our product.
Fort Collins, CO (PRWEB) November 12, 2015
Decibullz, the industry-first line of custom molded earphones, has been awarded top honors as Best In-Ear Headphones of the Year by Reviewed.com. For the second time Decibullz has also been named as an Innovation Awards Honoree for the prestigious Consumer Electronics Show (CES) 2016.
Decibullz are custom molded earphones that are made for mobility and can be easily reheated and reshaped as many times as desired, in order to achieve the perfect fit. This anatomically-inspired, wearable technology, represents the future of earphones.
Decibullz competed against both big and small brands on its way to receiving top honors from Reviewed.com., as Decibullz was awarded Best in Ear headphones of 2015, Two of the key Decibullz features were sound isolation and custom comfort
"With so many great headphones on the market today, we are honored to be chosen for the Reviewed.com award," said Kyle Kirkpatrick, founder of Decibullz. "We are very proud of our industry leading headphones and this honor serves as a strong validation for our product."
Decibullz was also named as a CES 2016 Innovation Awards Honoree. Products entered in this prestigious program are judged by a preeminent panel of independent industrial designers, independent engineers and members of the trade media to honor outstanding design and engineering in cutting edge consumer electronics products.
CES 2016 Innovation Honoree products are featured on CESweb.org/Innovation. Decibullz will be displayed at CES 2016, which runs January 6-9, 2016, in Las Vegas.
Decibullz utilize thermoplastic custom fit earpieces to create extremely comfortable and perfect fitting earphones. When heated in water (using the microwave, or the stove) the earpieces soften. Once the mold is allowed to cool to slightly above room temperature, the user then presses the earpiece to their ear, molding it to an exact fit in about four minutes, without the need for an expensive audiologist.
The earpieces come in a variety of colors to provide an additional level of style and customization.
For more information on Decibullz, and to order a pair of custom molded earphones, visited Decibullz.com, or pre-order the new wireless edition on Kickstarter.
About Decibullz:
Decibullz is a brand that caters to people who seek comfort and optimal fit in earphones. After extensive research, creator Kyle Kirkpatrick concluded that the only way to fit earphones precisely is to mold them to the exact shape of the user's ear. Decibullz was created to solve this problem with an affordable and easy solution. Decibullz are the first custom molded wireless earphones and are simply the most comfortable and best fitting wireless earphones on the market.
WIRELESS TECHNOLOGY: Decibullz earpieces are combined with a specially designed state of the art wireless earphone system. Using new wireless technology like AptX®, Decibullz Wireless can deliver full 'wired' audio quality.
MATERIALS: The Decibullz earphone mold is composed of a unique blend of thermoplastics.
CUSTOM MOLD: Once the custom molds are formed, they follow the unique contour of the user's ears. The result is a smooth transition from biological to mechanical. This also keeps the earphones from falling out and eliminates all pressure points.
SPECIAL FEATURES: Decibullz can be reheated as many times as needed to achieve the perfect fitting earphones with universal inline remote and microphone for use with your smartphone.