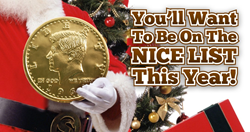 This year's biggest holiday treat is from Palmer: the Mega Coin, one pound of rich Belgian chocolate measuring eight inches in diameter. It's sure to delight kids of all ages.
Reading, PA (PRWEB) November 12, 2015
The RM Palmer Company is well-known for introducing fun new candy novelties each holiday season, and 2015's entries to their Christmas holiday line will not disappoint – especially one of the biggest, shiniest, chocolatiest confections to be found beneath this year's Christmas tree: the chocolate Mega Coin.
Candy coins have a long tradition as Christmas treats. In the past Palmer has been among the many candy makers producing chocolate doubloons or candy coins made to look like pirates' gold. This year, Palmer has minted a uniquely wondrous creation that will surely stand out from the typical candy coin, in flavor and especially in size.
Measuring eight inches across and weighing in at a whopping one pound, Palmer's Mega Coin is an impressive accomplishment. Made from rich Belgian chocolate, the Mega Coin is sure to please the most discriminating chocolate fan. The coins are renditions of the classic Kennedy half-dollars of the 1960s, themselves popular stocking stuffers once upon a time. Each super-sized coin is festively wrapped in bright foil, ready to be enjoyed by kids of all ages.
Larger than life and deliciously chocolaty, Palmer's Mega Coins will be available this season everywhere Palmer's line of chocolate novelties are sold. Visit Palmer's holiday website to find a retailer near you.
ABOUT RM PALMER COMPANY
The RM Palmer Company has been crafting fun, seasonal chocolate novelties since 1948. Today, the R.M. Palmer Company is the 75th largest confectioner in the world, with more than $200 million in annual sales and is the 21st largest confectioner in North America (according to candyindustry.com). From their headquarters in West Reading, PA, Palmer's 850 dedicated employees design, produce, package and ship more than 500 unique items to nearly 100,000 retail locations in North America - making Palmer one of America's largest and most innovative confectioners. For more information about R.M. Palmer Company, visit http://www.rmpalmer.com.