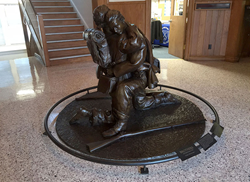 Fork Union, Virginia (PRWEB) November 11, 2015
On Veterans Day 2015, Fork Union Military Academy announced the installation of a bronze sculpture by nationally recognized sculptor, Gary Casteel, in the entrance hall of its central administrative office building, Hatcher Hall. The two-figure, life-size setting depicts two soldiers kneeling together and embracing. The moving sculpture was installed and dedicated recently in a private ceremony, as the sculpture's donor, a private collector who commissioned the bronze memorial, wishes to remain anonymous. The Academy chose to announce the acquisition of this sculpture on Veterans Day as the piece, entitled "Brothers," honors the physical and emotional sacrifice of those soldiers who take up arms in the defense of their nation.
The sculpture, commissioned and executed in 2010, was on public display at Virginia's Capitol prior to its installation at Fork Union Military Academy. "The very moving statue is meant to mean different things to different people," said the statue's anonymous donor. "For me, it is a simple and profound tribute to the common, everyday person who answered the call, left home and family and took part in an epic struggle, as warriors have done throughout the ages. The image displays fatigue and grief, but also hope and solace that it is over and that a future lies ahead of hope and promise bound together in liberty and individual dreams that is America today."
The artist, Gary Casteel, is a native of West Virginia and currently resides in Cashtown, Pennsylvania, near Gettysburg, where his statue of General James Longstreet astride his horse represents his first nationally-significant installation. His work has become highly-regarded and a wide variety of institutions now contain examples of Casteel's work, including the United States National Park Service, Fredericksburg National Battlefield Park, the Museum of the Confederacy, and the Virginia Military Institute.
Fork Union Military Academy declines to make public an estimate of the artwork's value, but officials there describe the gift as one of the most generous non-cash donations the Academy has received in its history.
About Fork Union Military Academy
Fork Union Military Academy in Fork Union, Virginia, is a college preparatory military boarding school for young men in Grades 7 through 12 and postgraduates. Affiliated with the Baptist General Association of Virginia and open to those of all religious denominations, Fork Union was founded in 1898 and has a rich tradition promoting character, leadership, and scholarship.
# # #