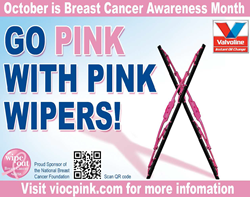 Newton, MA (PRWEB) November 12, 2015
Sunday, November 1st Valvoline Instant Oil Change ended Pink Wiper fundraising campaign. The promotion sold pink wiper blades, raising over $10,000 for National Breast Cancer Foundation, Inc.® (NBCF).
Finishing its 4th year, the campaign has earned $55,200 for the NBCF.
The campaign is working to build awareness for Breast Cancer. Each year it has seen a growth in recognition and impact. This year, customers lined up to get their pink wipers during the campaign kickoff October 3rd.
Breast Cancer does not stop in October. Valvoline Instant Oil Change will be selling pink blades throughout the year. For more information and a location list visit http://www.ViocPINK.com, and follow the campaign with #PinkOilChange.
About Valvoline Instant Oil Change℠
Valvoline, a brand of Ashland Inc. (NYSE: ASH), has been serving American motorists for more than 140 years. Valvoline Instant Oil Change℠ has approximately 900 locations throughout the United States, and is a leader in serving the quick-lube market.
About Henley Enterprises, Inc.
Henley Enterprises, Inc. founded in 1989, is the largest Valvoline Instant Oil Change franchisee. They operate over 200 service centers across twelve states including: California, Delaware, Florida, Michigan, Massachusetts, Maryland, New Hampshire, New Jersey, Ohio, Pennsylvania, Rhode Island, and Virginia.
About the National Breast Cancer Foundation, Inc.®
Recognized as one of the leading breast cancer organizations in the world, the National Breast Cancer Foundation's (NBCF) mission is to help women now by providing help and inspiring hope to those affected by breast cancer through early detection, education and support services. A recipient of Charity Navigator's highest 4-star rating for eleven years, NBCF provides women Help for Today…Hope for Tomorrow® through its National Mammography Program, Beyond The Shock®, Early Detection Plan, and breast cancer research programs. For more information, please visit http://www.nbcf.org.
###