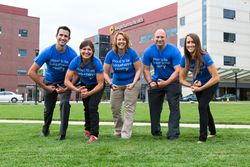 As a healthcare provider and one of our region's largest employers, we take seriously the responsibility of health and wellness and leading by example.
Williamsport, PA (PRWEB) November 12, 2015
As an organization that values individual wellness, investing in the long-term, overall health of its caregivers makes perfect sense to Susquehanna Health (SH). Now in its fifth year of a journey toward a culture of health, SH is seeing dividends through increased awareness and participation of 75 percent of its 3,900 service partners (employees) in wellness initiatives in addition to reduced healthcare costs.
Partnerships
SH embarked on a journey toward workforce wellness in 2010 with a corporate health risk assessment. Time invested by individual employees who provided health details was reinvested by SH to analyze the data and assist employees in understanding their personal health status, identifying health risks and accessing helpful programs and resources.
SH's wellness program is a partnership between human resources/employee benefits and employee health. A partnership between employee benefits and Highmark Blue Cross Blue Shield enables SH employees to earn financial incentives through insurance benefits and contributions to health savings accounts for such things as taking annual health risk assessments, obtaining a physical with a primary care physician and participating in health coach interviews.
"This coordinated effort between our benefits and wellness teams has led to the engagement of our service partners in healthy behaviors and lower healthcare costs than found in state or federal trends," said Vice President of Human Resources Christine Ballard.
Programs
Based on data gathered, SH developed a guided care program to assist employees with disease prevention and management for diabetes, asthma and weight management. Recognizing a need for someone to partner with employees and serve as support staff, SH invested in two full-time health and wellness educators charged with developing wellness initiatives and providing free health coaching for all employees.
In addition to coaching responsibilities, Health and Wellness Educators Jerrod Ferrence and Melissa Gundy worked together early in 2015 to provide a 16-week corporate Weight Loss Challenge. About 108 teams composed of more than 1,000 employees competed to lose the most weight. Following a series of health-related quizzes and weigh-ins, the teams collectively lost greater than 5,400 pounds.
To help employees sustain their weight loss, the team developed a Maintain Campaign that will be rolled out before Thanksgiving and end the week after the new year. "We know that the average weight gain over the holidays is about 5 to 10 pounds," explained Ferrence. Employees will weigh in during mid-November and again early in January. Participants can pay a small entry fee for a chance to win prizes including gift cards and personal training packages. Following the Maintain Campaign, the second annual Weight Loss Challenge will commence in mid-January to continue building momentum.
Other ongoing wellness offerings that contribute to workforce wellness include: Stairways to Health (using stairs instead of the elevator), free fitness classes held at the local YMCA, free flu shots and blood screenings, smoking cessation programs, webinars and healthy food options in hospital cafeterias and other locations where snacks are available.
Progress
According to Ferrence, a healthcare savings of $79 per member per month is being realized as workforce health is strengthened. "We're seeing individuals benefiting from guided care programs for diabetes and hypertension who are reducing and sometimes even eliminating medication," he said.
Growth in the wellness program, expanded to include Soldiers + Sailors Memorial Hospital, has led to the recent addition of a third health and wellness educator. "Ashley Geiser's background in health and community wellness is serving us well," said Ferrence. "This is just year one for our new health and wellness team and we truly desire to keep moving forward as we support our service partners in attaining their goals and living healthier lives."
SH was recently recognized for its healthy workforce efforts with the Continuing Excellence Award by Highmark Blue Cross Blue Shield, Chamber Choice and the Williamsport/Lycoming Chamber of Commerce. "As a healthcare provider and one of our region's largest employers, we take seriously the responsibility of health and wellness and leading by example," said Ferrence.
About Susquehanna Health
Susquehanna Health is a four-hospital integrated health system including Divine Providence Hospital, Muncy Valley Hospital, Soldiers + Sailors Memorial Hospital and Williamsport Regional Medical Center located in northcentral Pennsylvania. Serving patients from an 11-county region, Susquehanna Health is a healthcare leader and has been recognized at the national and state levels for quality of care. Susquehanna Health offers a wide array of services that include cancer care, heart and vascular care/heart surgery, neurosciences including neurosurgery, orthopedics, urology, OB/GYN, gastrointestinal services, behavioral health, physical rehabilitation, home care, long term care, assisted living and paramedic/ambulance services.