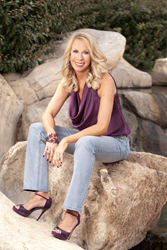 Dreams are a great goal - but it's up to you to make them come true!
(PRWEB) November 23, 2015
Author, Esther Spina is running a 5-week teleseminar called Overcoming the 5 Myths of the Ambitious Women with CEO and Author, Ken Dunn. They will be conducting a weekly hour long talk on Monday nights at 8pm CT from January 4th, 2016 – February 1st, 2016.
In order to get access to the weekly calls, participants must first purchase the Ambitious Woman Package. This package includes: 6 physical books, 2 audio books and 2 journals all of Spina's 'The Ambitious Woman' line of products. The package is available for $99, a $250 value.
What will be covered:
Debunking the 'Ambitious Women' Myths such as-
1. They are power hungry and aggressive
2. They have Queen Bee egos
3. They are not emotional
4. They are not "sexy" or "feminine"
5. They think they have arrived
What attendees will learn:
What the myths actually are, how to dispel the myths, and the actions to take immediately to overcome these myths to be more successful.
Esther's book, 'The Ambitious Woman', includes Spina's wisdom on being successful in any environment. According to Esther Spina, being ambitious enough to pursue dreams is a key ingredient in success. Esther also shares her experiences and insight through her network, Ambitious Women, and in hundreds of speaking engagements throughout the nation each year. A highly sought-after motivational coach and speaker, Esther Spina inspires thousands of women every year with her teaching. For more information, see http://estherspina.com/.
About Esther Spina:
Along with being a valued public speaker and motivator as well as an author, Esther Spina is also the founder of Ambitious Women, a group that provides support through annual conferences for women in business.
About Ken Dunn:
Ken Dunn has been an entrepreneur for 20 years. After leaving a 14-year career in investigative policing, he has started and grown successful businesses in the mortgage, property management, direct selling and publishing industries. He is now the CEO of Next Century Publishing, which is referred to as a "hybrid" book publishing company as it incorporates aspects of both self-publishing and traditional publishing.