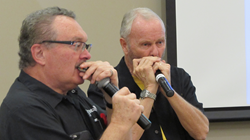 I was totally amazed with how I was breathing better after playing for a few months.
SURPRISE, ARIZ. (PRWEB) November 12, 2015
John Schaman, M.D., is on a mission to blow away, or at least manage lung problems that cause breathing difficulties for countless older adults. His weapon of choice? Ironically, it's an instrument named after harmony: the harmonica.
Schaman presented his findings and demonstrated his methods at a Better Breather's meeting, Nov. 9 and 12 at The Colonnade, a Sun Health Senior Living Life Care community in Surprise. Part of Sun Health's Community Education program, Better Breathers is a monthly education and support group for people with chronic obstructive pulmonary disease (COPD). It's led by Banner Del E. Webb Medical Center respiratory therapist Rochelle Swenson.
The rehabilitation medicine physician from Ontario, Canada, began looking into the health benefits of harmonica playing in 2007 after learning that most people lose 50 percent of their lung function between ages 30 and 70.
"I wanted to see if there was something we could do to make the lungs operate younger or at least slow down the aging process," Schaman says. "The harmonica made sense because it's the only musical instrument that makes sound when you blow and draw; inhale and exhale."
Fellow clinicians and others with an interest in the topic joined Schaman in researching various harmonica-playing methods to find which ones were best at improving lung function. After years of trial and error, they developed the Harmonica Exercise for Lung Program (HELP), which is specifically designed to help people improve lung function while they make real music.
The "harmonica MD," as Schaman's sometimes called, even worked with master craftsmen from the Seydel Harmonica Company in Germany to design a "medical harmonica" that maximizes the workout for people with lung problems.
Glo Williams is not shy about trumpeting the powers of the harmonica. She took up the instrument two years ago after reading online articles touting its health perks. At the time, Williams' COPD had severely limited her ability to lead a normal life. Pulmonary medicines, rescue inhalers and oxygen machines were her constant companions.
She began taking group lessons with local harmonica player and teacher Larry Regan who encouraged Williams to persevere despite the many challenges she faced. Williams kept at it, sometimes practicing for an hour or more each day. It appears to have paid off. Today, Williams is a ball of positive energy.
"I was totally amazed with how I was breathing better after playing for a few months. Now I don't have any problem walking and I haven't had to use the rescue inhaler in ages," says Williams who favors campfire and folk songs on her mouth harp. She enjoys playing so much that she sometimes loses track of time. "My husband will poke his head in the room and ask, 'Are we going to eat tonight?'"
Regan has become a believer himself and is beginning to use "HELP" with students who have breathing problems. Regan showed off his considerable harmonica chops, jamming with Schaman at the doctor's presentation.
Glo Williams was largely responsible for Schaman's visit. She has taken COPD exercise classes at the Sun Health Center for Health & Wellbeing and told the teacher, exercise physiologist Rhonda Zonoozi, about Schaman and her own success story. Zonoozi contacted Schaman and worked with him to schedule the visit.
The approximate 40 attendees, most with COPD, were intrigued by Schaman's talk and he agreed to come back to the Better Breathers' group in the spring to share more information.
"The only side effect (of harmonica playing) is that occasionally someone becomes a musician," Schaman joked.
About Sun Health
A long-standing champion of healthy living, research and superior health care, Sun Health is a community-based health and wellness organization providing pathways to population health through philanthropy, senior living communities and community wellness programs. Learn more at http://www.SunHealth.org. Schaman's website is http://www.harmonicamd.com.
###