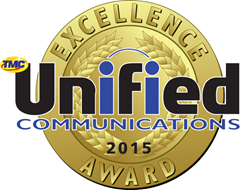 "We are very honored to have Quicklaunch™ recognized by our peers." Angela Hlavka, Chief Strategy Officer, Collaboration Solutions.
Los Angeles, CA, Calgary, AB (PRWEB) November 12, 2015
Collaboration Solutions Inc. (CSi) is proud to announce receiving a 2015 Unified Communications Excellence Award for their Quicklaunch™ application by TMC (Technology Marketing Corporation) on November 4th.
Quicklaunch™, co-developed by Iluminari Tech, is an easy to use, 'one-click'/'one-touch' application to join meetings, launch applications, access data, play media, showcase your organization's content and business intelligence assets, and more. Quicklaunch is an intuitive add-on for Microsoft Skype for Business and Lync workspaces, including meeting rooms, training rooms, video walls, workspaces, and is designed for use on premise and the cloud using Microsoft Office365.
The Unified Communications Excellence Awards recognize and honor companies that have developed exceptional unified communications products that are leading the way in this growing industry.
"We are very excited about the potential of Quicklaunch™ and are honored to have it recognized by our peers." Angela Hlavka, Chief Strategy Officer,Collaboration Solutions.
Quicklaunch™ was created to provide a consistent, easy to use, secure interface whenever anyone enters a room or workspace, for adhoc collaboration or scheduled meetings. The application saves users valuable time with meeting room functions that increase productivity. For IT and AV professionals, there is an added benefit of configuring, securing and managing meeting room profiles, for individual rooms and for the entire network through a control center.
The application makes it easy to tie together existing and future AV equipment with Microsoft Lync and Skype for Business platforms, providing tooling that revolutionizes the meeting room experience. A camera, PC, and display is all that's needed to get started. Quicklaunch™ integrates with existing Microsoft Exchange, Skype for Business, and Lync environments to extend the enterprise meeting experience.
"Congratulations to the winners of the 2015 Unified Communications Excellence Award," said Rich Tehrani, CEO, TMC. "The recipients of this eighth annual award provide innovative solutions in the UC marketplace and we look forward to seeing their future successes."
These awards are regarded as some of the most prestigious and respected honors in the communications and technology sector worldwide. Winners represent prominent players in the market who consistently demonstrate the advancement of technologies and each recipient is a verifiable leader in the marketplace.
For a full list of features or to schedule a demo with one of our collaboration experts,
visit http://www.collaborationsolutions.com/products/quicklaunch or watch the Quicklaunch Product Demo Video.
--30—
About Collaboration Solutions Inc. (CSi)
Founded in Los Angeles, CA in 1998, Collaboration Solutions, Inc. (CSi) is a next generation collaboration solutions provider offering a complete spectrum of services; from collaboration space design, audiovisual and communications platforms, to custom applications and content. CSi services and products include: Design of collaborative workspaces and furnishings, audiovisual (AV) services and conferencing solutions, Microsoft Skype for Business (and Lync) Services, Microsoft Office 365 Services, Custom Application Development, Microsoft SharePoint Services, Data and Business Intelligence (BI), User Experience (UX), Collaboration Software Products.
For more information visit http://www.collaborationsolutions.com.
About Iluminari Tech
Iluminari Tech specializes in delivering next-generation Microsoft communication and collaboration solutions to both customers and carrier partners. Iluminari Tech is Microsoft Gold Communication Partner, Certified Support Partner, Managed Partner and Certified Trainer that provides the expertise, best practices and training to successfully implement global communication and collaboration solutions utilizing Skype for Business, Lync and Office 365 on-premises and in the cloud. For more information visit http://www.iluminaritech.com