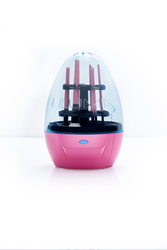 Los Angeles, Calif. (PRWEB) November 12, 2015
The Lilumia is an automatic makeup brush cleaning device that is the first of its kind to hit the consumer market. This new time-saving home appliance designed for women who wear makeup regularly has been recently updated to fit up to 12 makeup brushes at one time. The newly improved cleaning surface provides a more effective clean while being gentle on brush hairs. The Lilumia actively improves the hygiene of the user's skin by utilizing a one-of-a-kind textured cleaning surface which thoroughly cleans the makeup brushes in conjunction with their specialized Lilumia soap. The soap was scientifically developed to clean and condition all types of makeup residues from various types of cosmetics brushes. Specially selected conditioning agents, coupled with hydrolyzed proteins, penetrate even the toughest bristles, rendering them soft and supple, with a renewed appearance.
Amongst these updates, Lilumia has also released four new color options. To provide longer lasting, high quality paint finish they created colors in Gold (Dubai), Glossy Pink (Paris), Matte Black (New York), and Full Chrome (Tokyo).
As a former model, CEO of Lilumia, Fierra Cruz, needed a more time-efficient way to clean her own makeup brushes at home. Determined to invent a better method that encouraged proper care of these essential tools, she spent three years researching and developing a product that is accessible to both professionals and consumers within the beauty industry. Her unique solution is the Lilumia.
The Lilumia retails for $159 but currently has a special pre-order discount available for a limited time only.
###
For more device information please visit http://www.lilumia.com or contact: Niki at niki(at)mannfolkpr(dot)com