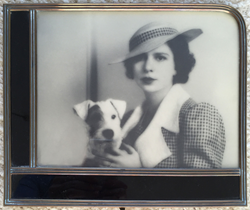 Beverly, Massachusetts (PRWEB) November 17, 2015
Kaminski Auctions is pleased to present an outstanding collection of art, silver, porcelain and furniture descended through the family of Emily Hall Tremaine of Madison, Connecticut and Santa Barbara, California in their Thanksgiving sale on November 28th and 29th, 2015.
An American heiress, Emily Hall Tremaine grew up in the Jazz Age of the 1920s and embodied the lifestyle of glamour, wealth and privilege. In her early years she is remembered as a dazzling socialite living a daring and racy lifestyle. Married three times, her first marriage was to the handsome Baron Maximilian Hugo Converse Wilhelm von Romberg. The 19th von Romberg to hold the title, he enjoyed a wild and extravagant lifestyle of fast polo ponies, fast cars and travel to far-flung destinations for big game hunts. The couple piloted their own planes and the thrill seeking young Baron had many near death experiences, which wore on their marital happiness.
Far from a vapid, brainless heiress, Emily was extremely well read and well versed on many subjects. For many years she published a society magazine titled "Aperitif", which was a combination of art reviews, gossip, poetry and fiction. Her passions later in life involved architecture and fine art.
It was with her third husband Burton G. Tremaine, whom she married in 1945 that she became one the foremost collectors of contemporary art in the country. She credits Burton with "the real adventurous tastes," that led them to embrace the Pop Art movement and began their foray into collecting contemporary art. Her personal collection at the time of her death was said to rival that of the Museum of Modern Art.
In 1988, Christie's sold 60 of their major contemporary works for $60.0 million dollars, an auction record at the time for a single owner collection. In 1991, fifty more works from the Burton G. and Emily Hall Tremaine collection of 20th century art were sold at Christie's in New York City. Perhaps their most memorable work sold was an early painting by Jasper Johns titled "Three Flags". In 1980, the Whitney Museum of American Art purchased it for a record $1,000,000.00 thought at the time to be a record of the highest amount paid for the work of a living artist.
Kaminski Auctions brings to the podium an amazing array of pieces that has descended through the family. The collection features over 200 items of important art, exquisite furniture, as well as signed lithographs and original pieces from American painters obert Rauschenberg, Frank Stella, Ellsworth Kelly, Joseph Albers, Robert Motherwell, Steve Etnier and Al Hansen, British artists Bridget Riley and Ian Tyson, and other well-known modern artists like Jean Arp, Victor Vasarely and Ernest Trova.
The Al Hansen (America, 1927-1995) is a Hershey Collage, circa 1960, created from Hersey bar wrappers and silver paint on masonite valued at $6,000-$9,000. There is a Robert Rauschenberg (American, 1925-2008) collage on board from his "Card Birds II" series estimated at $2,000-$4,000. Another abstract collage by Robert Motherwell (American, 1915-1991), is valued at $700-$1,200. Signed lithographs by Frank Stella (American1936-) in orange and blue from his "V" Series and Ellsworth Kelly (American, 1923-) range from $1,000-$2,000 and $3,000-$5,000 respectively.
British artwork in the sale features an original from Modernist painter Bridget Riley from her silver triangles series, signed and dated 1964. The larger image was exhibited at the Wadsworth Athenaeum, Hartford Connecticut as part of the Tremaine Collection and can be found on page 121 of it's catalogue for the February 26 -April 29th, 1984 exhibition. The piece is conservatively estimated at $5,000-$10,000. Another piece from the artist is a silkscreen print with labels from The Richard Feigen Gallery, New York City and the San Francisco Museum of Art, registry number 3-65-44. "Games" a suite of four lithograph images signed "67 Tyson" by British artist Ian Tyson (British, 1933-) is estimated at $1,000-$2,000.
Original oil paintings of interest include a Stephen Etnier (American, (1903-1984) titled "On Gilbert Head", signed and dated 1935 with exhibit label from the Carnegie Institute, Pittsburgh, PA valued at $7,000-$12,000 and a D. Howard Hitchcock (American 1861-1943), painting of a Hawaiian roadside view dated 1899 valued at $2,500-$4,500. Among the other highlights, are five original Johann Berthelsen (1833-1972) oil on board New York City snow scenes estimated at $4,000-$6,000.
Irish and English hallmarked silver descended through the Tremaine family features prominently in the sale. Of particular interest is an important Irish silver covered soup tureen, with gadroon edge, open handles and engraved crest weighing approximately 90.8 troy ounces. This exquisite piece is by Richard Williams and hallmarked 1802 Dublin, Ireland. It is estimated at $5,000-$10,000. A spectacular ten piece French mirrored garniture set with brass inserts, .950 standard silver marked Paris, Gustave Keller with paneled sides, and a weight of 242.4 troy ounces is estimated to bring $4,000-$7,000.
Family porcelain includes such famous names as Ginori, Lalique, Kosta Boda, Rosenthal and Royal Copenhagen as well as English Spode, Minton, Crown Sutherland and Davenport. There is also an outstanding collection of Rose Medallion, including a 19th century Chinese Rose Medallion well and tree platter, once exhibited in the Metropolitan Museum of Art in New York City estimated at $700-$1,200.
A selection of Tremaine family 18th century American furniture rounds out this outstanding collection.
In addition to the Tremaine collection, also notable in Day Two is a collection of Egyptian and Roman antiquities from Commander Henry Gorringe, who was contracted to move the obelisk of Thutmosis III, also known as Cleopatra's Needle, from Alexandria, Egypt to Central Park in New York City in 1879; he collected artifacts found during the excavation and turned it into his private collection of antiquities. Presented in this auction is part of the collection his heirs loaned to the Worcester Art Museum, Worcester, MA.
A noteworthy piece of estate jewelry in the auction is an exquisite very rare 9.02 carat natural blue Ceylon sapphire ring, surrounded by diamonds in a platinum setting with an AGL certificate and estimated at $75,000-$125,000.
Day one of the Annual Thanksgiving Auction features a selection of fine art as well. Most notable is a painting titled "Desert Travelers" by American artist Fredrick Arthur Bridgman (1847-1928) oil on canvas with the gallery label verso, dated 1925 from the Mathaf Gallery, London estimated at $15,000-$20,000. Also from the Mathaf Gallery comes a Victor Pierre Huguet (French, 1835-1902), oil on canvas, in the Orientalist style, titled "Bedouin Encampment," signed lower right, both paintings are from the a Palm Beach estate.
Another French artist represented in the sale is Emile-Othon Friesz (French, 1879-1949), an interior scene, oil on canvas, signed lower right from the Galerie de la Présidence, Paris, is estimated at $8,000-$10,000
American artists in the sale include a Claude Raguet Hirst (born Claudine, American, 1855-1942), "Grandma's Pastime," still life, watercolor gouache, signed lower right, and a Fern Coppedge (American, 1883-1951), autumn landscape with dappled sunlight and a house next to a lake, oil on artist board, signed, from a Massachusetts estate estimated at $4,000-$6,000.
There is a notable collection of French bronzes in Day One from Dr. Lester Jenkins, a prominent Lynn, Massachusetts's physician including works by Isadore Bonheur, Pierre-Jules Mêne, and Eugène Laurent.
Unique items of interest in Day One of the sale include a Western saddle by Jack Grigsby that was actor Steve McQueen's parade saddle, valued at $8,000, a 1967 Hofner bass guitar, a 1986 Chrysler Le Baron Coupe, and an Alvan Clark & Sons brass telescope owned by prominent zoologist and Harvard oceanographer Henry Bigelow. Mr. Bigelow wrote extensively on oceanography and became the first director of the Woods Hole Oceanographic Institute, Woods Hole, Massachusetts.
Preview this exciting auction online starting November 14th at http://www.kaminskiauctions.com and sign up to bid with KaminskiLIVE. For more information call 978-927-2223.