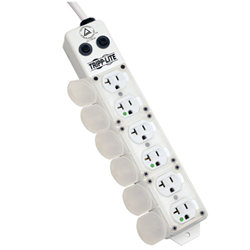 medical-grade power strip solution for use in patient-care vicinities that meets the latest CMS requirements
Chicago, IL (PRWEB) November 12, 2015
Tripp Lite, a world-leading manufacturer of power protection and connectivity solutions, has extended its line of UL 1363A-compliant medical-grade power strips approved for use in patient-care vicinities. The new PS615HG20AOEM medical-grade power strip is approved for use in operating rooms, patient-care areas, therapy rooms, imaging environments and administrative areas. This medical-grade power strip has six 20-amp outlets and mounts to IV poles, crash carts and other mobile equipment for use inside and outside the patient-care vicinity.
Among the PS615HG20AOEM power strip's advanced features is a 15-foot power cord that allows medical personnel to move connected equipment close to patients. Two industrial-grade 20-amp circuit breakers protect medical equipment from overloads and short circuits.
Tripp Lite's new PS615HG20AOEM medical-grade power strip also meets the requirements outlined in the CMS categorical waiver, which allows the power strip to be used in healthcare facility patient-care vicinities if the provider/supplier meets all of the listed requirements.
Key Features
-- Long 15-foot, 12-gauge power cord allows connected equipment to be moved where needed
-- Dual resettable 20A circuit breakers are built in to protect against dangerous overloads
-- NEMA 5-20P-HG hospital-grade plug and NEMA 5-20R-HG hospital-grade outlets comply with UL 1363A specifications
-- Integrated locking safety covers guard against access to unused outlets and require a tool to be removed
-- Meets requirements outlined in the CMS categorical waiver
"We're pleased to offer another medical-grade power strip solution for use in patient-care vicinities that meets the latest CMS requirements," said Jim Folk, Tripp Lite's Director of Healthcare Solutions. "The 15-ft. cord gives medical professionals flexibility to move connected equipment close to the patient, so they can focus on patient treatment, not equipment management."
For more information on the new power strip, visit; Tripp Lite PS615HG20AOEM Medical-Grade Power Strip
About Tripp Lite
Outstanding product reliability and exceptional service have been Tripp Lite trademarks for over 90 years. Tripp Lite´s innovations include the world's first UPS system designed specifically for personal computers and the world's most trusted premium surge suppressor—the Isobar®—with more than 19 million in use. Tripp Lite maintains the highest level of ready-to-ship inventory in the industry with more than 3,000 different products, including UPS systems, rack systems and cooling solutions, PDUs, PowerAlert software for enterprise-level system management and control, surge suppressors, KVM switches, cables and connectivity products, inverters, power strips and notebook accessories. Headquartered in Chicago, Illinois, Tripp Lite maintains a global presence with fully staffed offices worldwide. Additional information, including a list of Tripp Lite's sales offices and authorized reseller partners, can be found by visiting Tripp Lite's website: http://www.tripplite.com.