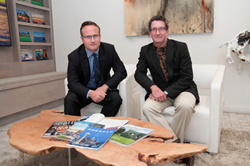 Seattle, WA (PRWEB) November 12, 2015
Executives of Realogics Sotheby's International Realty (RSIR) and Tiger Oak Publications announced today their collaboration to produce an all-Mandarin magazine called "Seattle Luxury Living," which targets affluent Chinese consumers locally and overseas. The new publication will feature editorial on key lifestyle considerations for inbound Chinese Nationals to the Pacific Northwest including real estate trends, international business and trade, education and immigration, ethnic cuisine and luxury consumer goods including automobiles, fashion and travel. Invitation-only advertisers will include leaders in residential and commercial real estate, hotels, restaurants, haute couture fashion, jewelry, airlines, architects, law firms and other lifestyle services. Distribution is targeted for December 2015 and January 2016 leading into the Chinese New Year Celebrations in February 2016, which is a popular time for Chinese tourism in the Pacific Northwest.
"We view our first edition as an international manual for luxury living within the Seattle metro area," said John Spear, Associate Publisher for Tiger Oak Publications. "Having produced Seattle Magazine for more than two decades we can spot trends in the region and a growing influence of Chinese consumers is among the most significant I've witnessed. Seattle Luxury Living will be a breakthrough publication in our market and a sign of the times as we take our place as a world-class, international gateway city."
Spear says the Seattle Luxury Living magazine will be distributed both in print and digitally. The publication will be available at select retail locations, hotels and first class airport lounges in Seattle and within China. Additionally, the content will be linked to popular websites operated by Tiger Oak Publications as well as a new WeChat app being developed by RSIR for viral distribution within China.
"We are honored to be the contributing real estate partner on this timely publication," said Dean Jones, President & CEO of RSIR. "We have been monitoring these trends closely for several years and developed our Asia Services Group at Realogics Sotheby's International Realty to respond to increasing foreign direct investment and immigration from China."
Jones has assembled more than a dozen brokers at his Asia Services Group, whom are fluent in the language and logistics of foreign homebuyers. Jones is an active member of the Asian Real Estate Association of America and was recently appointed to the Board of Directors for the Washington State China Relations Council (WSCRC).
RSIR is currently developing an extensive WeChat app that will feature the Seattle Luxury Living content as well as other market reports, featured listings and reference resources for Mandarin-speaking homebuyers exploring investment in the Pacific Northwest.
"This is a keen decision given that most western social media and video platforms such as Facebook, Twitter and YouTube are not available in China," adds Jones.
###
About Realogics Sotheby's International Realty (http://www.RSIR.com) - Artfully uniting extraordinary homes with extraordinary lives, Realogics Sotheby's International Realty is a leading global sales and marketing brokerage firm in the Pacific Northwest. Recognized by the Puget Sound Business Journal amongst the fastest-growing private companies in Washington State for 2012, 2013, 2014 and 2015, the boutique real estate firm of 140+ brokers consistently ranks among the top producing firms within the markets that it serves with branches in downtown Seattle, Bainbridge Island, Kirkland and now Issaquah.
About Tiger Oak Publications (http://www.TigerOak.com) – Following the launch of their first magazine in 1993, Tiger Oak Publication now manages a roster that includes more than 20 publications in a dozen markets, focusing on lifestyle, business and travel topics. Seattle Luxury Lifestyle joins a local collection that includes Seattle Magazine, Seattle Business Monthly and Seattle Bride. Today, Tiger Oak is a multi-dimensional media company, delivering content to audiences through glossy magazines, web sites, branded apps, social media, and high-profile events.
EDITORS NOTES: For high-resolution photography contact Andrea Savage at 206.448.5752 or email Andrea.Savage(at)RSIR(dot)com.