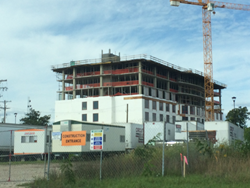 Hotels spend billions of dollars each year on renovations and upgrades.
Miami Beach, Florida (PRWEB) November 12, 2015
With employment numbers strong and getting stronger along with an increase in travel spending, hotel construction is at a decade high, according to HotelProjectLeads.com, a company that reports on hotel renovation, construction and development projects.
"This bodes well for the corresponding construction companies, suppliers and specialty contractors that are hired to complete the renovation and construction projects," says Adam Smith, Operations Manager for HotelProjectLeads.com.
HotelProjectLeads.com works with every type of product or service that goes along with developing and operating a hotel by providing hotel project information and by putting their clients in touch with project bidding and sales opportunities.
"Our business has tracked hotel construction projects through several business cycles including the great recession of 2008," says Adam. "After a substantial slow down in hotel development due to the great recession, it is very exciting to see the industry where it is now. There are a lot of opportunities for contractors and suppliers in the hospitality industry and I see it remaining strong for a long time."
"Due to the low level of hotel construction and renovation during and following the great recession, there is much pent up demand for hotels. Hotel construction is almost double what it was last year at this time," Adam continued. "For the foreseeable, future we expect this trend to continue."
"New hotel construction is also a catalyst for hotel renovation projects to occur. In order for older hotels to compete with the newer hotels being built in their area, they must renovate to stay competitive. Hotels spend billions of dollars each year renovating guestrooms, guest baths, lobbies, front desks, public spaces, meeting rooms, spas, swimming pools, fitness centers, bars, lounges, restaurants and exteriors and purchasing things like new furniture, furnishings, amenities and equipment."
For more information on upcoming hotel construction and renovation projects and hotel supplies, please visit HotelProjectLeads.com.