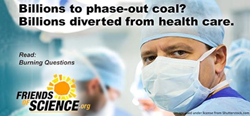 Canada is a leader in the reduction of polluting emissions. From 1985 to 2011 our Industrial carbon monoxide down 26%; Industrial carbon particulate down 44%; Industrial sulfur dioxide down 69%. Total economic output up 89%. Reclamation is law in Alberta
Calgary, Alberta, Canada (PRWEB) November 12, 2015
No stranger to climate change billboard controversy as reported in SLATE June 12, 2014 commentary on Friends of Science Society's 2014 campaign, the Friends are reaching out again with billboards to educate the public on the cost of early coal phase-out, as reported in this blog post.
The billboard features a stern looking doctor in surgical mask and the headline "Billions to phase-out coal? Billions diverted from health care." Viewers are advised to "Read Burning Questions" – Friends of Science Society's evidence based report that refutes the claims of the early phase-out coal activists.
In advance of the Paris COP-21 climate change talks, all federal and provincial governments and eco-activists are scrambling to find ways to meet proposed GHG reduction targets, eyeing an early coal-phase out as 'low hanging fruit' as reported in the Calgary Herald, Nov. 9, 2015. Friends of Science has been critical of the Alberta Climate Panel for leaving out important information about power generation.
Friends of Science says that phasing out coal in Alberta would lead to job loss and negative impacts on health care. Worse, they say, it may lead to grid instability, spiraling costs and possible blackouts, as has been the case in the UK reported in The Times of Nov. 6, 2015.
"Some 75% of power used in Alberta is for industry," says Michelle Stirling, Communications Manager for Friends of Science. "Triple the power costs and they will close up shop or leave."
While wind and solar activists claim coal can be replaced with renewables, Friends of Science point to reports that Google Engineers say renewable energy 'simply won't work' as reported in The Register of Nov. 21, 2014.
Friends of Science also says it was known as early as 1971 that carbon dioxide had a spectral saturation point that prevented it from causing much warming. NASA scientists Rassool and Schneider found that even an increase by a factor of 8 in the volume of carbon dioxide in the atmosphere would not cause more than 2 degrees K/C warming, in a paper originally published in Science in 1971, entitled: "Science Atmospheric Carbon Dioxide and Aerosols Effects of Large Increases on Global Climate." Consequently, Friends say carbon dioxide emissions should not be the focus of GHG targets.
"Canada is a leader in the reduction of polluting emissions," says Stirling, "From 1985 to 2011 our Industrial carbon monoxide emissions were down 26%; Industrial carbon particulate emissions down 44%; Industrial sulfur dioxide emissions- down 69%. Total economic output: up by 89%. Alberta has excellent environmental management and land reclamation is the law."
Friends of Science Society says that under the UN Charter, Article 2.1, every country has equal sovereignty and citizens should not allow the unelected, unaccountable UNFCCC and IPCC to direct or suggest policies that will destroy Canada's economy. un.org/en/documents/charter/chapter1.shtml
"Based on our 13 years of climate science research, the sun is the main direct and indirect driver of climate change," says Stirling. "Climate policies and stringent targets have damaged many economies world-wide. We advise our leaders to Say NO to Climate CO2 coercion."
ABOUT
Friends of Science Society has spent a decade reviewing a broad spectrum of literature on climate change and has concluded the sun is the main driver of climate change, not carbon dioxide (CO2). Friends of Science welcomes earth, atmospheric and solar scientists, engineers and citizens who challenge the alleged consensus on climate change.
Friends of Science Society
P.O. Box 23167, Mission P.O.
Calgary, Alberta
Canada T2S 3B1
Toll-free Telephone: 1-888-789-9597
Web: friendsofscience.org
E-mail: contact(at)friendsofscience(dot)org