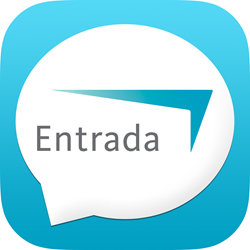 NASHVILLE, Tenn, (PRWEB) November 12, 2015
Entrada today announced the release of its Cloud Portal, an enhanced online resource that gives caregivers and their administrative staff more visibility over documentation workflow and reporting, as well as desktop access to Entrada's new secure messaging functionality.
Accessible from any web browser, the Entrada Cloud Portal gives practices the ability to view and manage their providers' documentation workflows – enabling them to see and report on the status of all Entrada-assisted documentation - and quickly collaborate patient care with other Entrada users via secure messaging. Released earlier this year, Entrada's groundbreaking mobile secure messaging feature allows care teams to quickly share text, audio, clinical data, and images with each other using its mobile productivity platform for iOS and Android. With the Cloud Portal, Entrada allows users to message directly from any web browser, giving staff who typically work from a desktop another option for communicating with the extended care team.
"This is a new capability that our customers will love," said Rob Trumble, Entrada's Chief Operating Officer. "The Entrada Cloud Portal has an elegant user interface with advanced, yet easy-to-use, tools for managing documentation. Staff and administrators can quickly ensure that important patient notes are swiftly and accurately added to the electronic health record. And since the Entrada Cloud Portal is integrated with Entrada's secure messaging, the clinical staff can choose their preferred device – whether desktop or mobile - when collaborating on patient care."
The introduction of secure messaging to the Entrada Cloud Portal extends this important communication tool beyond Entrada's mobile app. For example, a nurse can send a message to a doctor to get clarification on a prescription request for a patient, a provider can send an audio message to their staff to schedule a follow-up appointment, or a physician can share an image of their patient's worrisome wound with the support staff.
The Cloud Portal also gives administrators and staff easier and more intuitive ways to see at-a-glance which providers are documenting in the most productive ways as well as gather important documentation metrics using meaningful, real-time reporting tools. For example, an office manager can report on where a provider's documentation is in the process, listen to the audio file from the original dictation, and view any supporting images captured with Entrada's mobile productivity platform.
About Entrada
Entrada is a leading provider of integrated mobile solutions that improve healthcare efficiencies and outcomes. Entrada's commitment is to protect physician and staff productivity for the next generation of patient care. For more information, please visit http://www.EntradaHealth.com.