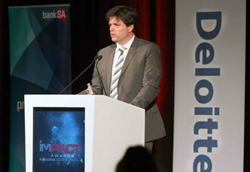 The ambassadors that did the judging…saw incredible potential (and) capability to grow…. It's about trying to identify and isolate world-class companies who we believe are world leaders.
(PRWEB) November 12, 2015
Of a highly competitive field of over sixty companies, eight were shortlisted as finalists, with three recognized as the winners. Congratulations also to Kelly Engineering and Alcidion.
Impact Awards committee member and organizer Kimon Lycos said, "The ambassadors that did the judging… saw incredible potential (and) capability to grow.… It's about trying to identify and isolate world-class companies who we believe are world leaders."
The award was accepted on behalf of the company by Stephan Mavrakis, Spectra QEST Executive Director, Global Sales, at a gala dinner at the Adelaide Convention Centre attended by over 350 people on Tuesday, November 10, 2015.
Stephan said, "What the Impact Awards aim to recognize is how entrepreneurship, when combined with commercial acumen, high level mentorship and hard work can have a transformative impact to companies, to industries and to communities…. We are creators of wealth, of highly valuable world-class jobs and technologies. That is what this award has been designed to celebrate, and that is why we are so proud and honored to have won it!"
An Impact Awards video showcasing Spectra QEST's winning solution was shown on the night, and can be viewed here.
Twenty-seven of South Australia's leading internationalists and business leaders are acting as ambassadors for the Impact Awards, coming together to ignite exciting local technology and innovation to have more global impact. One of whom, Frank Seeley, Founder and Executive Chairman of Seeley International, was inducted into the inaugural Impact Awards Hall of Fame. He said, "Success can only be achieved through dedicated teamwork and unwavering tenacity over many, many years."
Another Ambassador, International Management Consultant, Göran Roos explained the significance of the Impact Awards. He said, "I think the Impact Awards are important because they promote something that is critical for our prosperity as a nation. The prosperity comes from having a complex economy (which) means that we have many different activities that we can export across the world, that we are able to make, that nobody else is able to make, and that most of the input has a high value added coming from our country."
Impact Awards Ambassador, and former Premier of South Australia, Dean Brown, said, "Innovation is by far the most important single ingredient, I think, because it means that you are able to compete on the quality of the product and on the reasons why people will seek that product…. I think that South Australia needs to focus on becoming part of a global market…. Everything we do needs to be at the leading edge of the world…. People around the world will buy your expertise if your expertise or your product is the best they can get."
Spectra QEST is honored to have received this highly contested commercial award and would like to thank the sponsors Bank SA, InDaily, Deloitte and Microsoft, together with Statewide Super, Advanced Focus, Mihell & Lycos, Adept and the Government of South Australia.
About Spectra QEST
Spectra QEST is a software development and services company specializing in solutions for the construction materials engineering, testing, inspection and production industries. Founded in January 1984, Spectra QEST offers the most comprehensive construction materials quality platform on the market today. With offices located in Adelaide, South Australia, and Sacramento, California, it services customers in North America, Europe, Australasia and the Middle East. These customers include leading international construction companies, construction materials and geotechnical engineering companies, construction materials manufacturers, and government bodies.
Spectra QEST's technology has been honored with an American Council of Engineering Companies (ACEC) Gold Medal for Engineering Excellence (Texas) and an ACEC National Recognition Award for the QESTField product. Also, Spectra QEST was successful in winning Australia's premier IT industry award, the 2013 iAwards, both at State and National levels. Spectra QEST also won the Business SA 2013 Export Award.