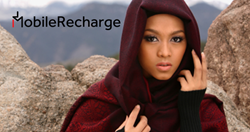 Very good. Honestly I was just trying to see if it works. It was first and I really will use it again. Recharged for family members and they were so happy. Thank you. (Jane on Trustpilot.com)
Atlanta, Georgia (PRWEB) November 16, 2015
Starting October, all those who have their families or friends back in the United Arab Emirates can top up their mobile phones on MobileRecharge.com in less than 1 minute. For the moment, refills are possible for mobiles subscribed to Du network in the country, but soon, more operators will be available. No contract is needed to send mobile credit to someone in the Emirates, it takes few seconds and one only needs to fill in a simple form on the website: http://unitedarabemirates.mobilerecharge.com/buy/mobile_recharge
MobileRecharge.com works both for personal top ups, as well as refills of relatives' and friends' mobiles in many countries all over the world. That's why the website is not only available in English for American citizens or other English speakers, but also in Spanish for Hispanic ethnic groups and expats, and other languages for Italians, Germans and French speakers whether from Europe or Africa.
It takes less than 1 minute to top up a number in the United Arab Emirates and there are 2 different ways to do that.

It can be done from a PC with Internet access, directly on MobileRecharge.com.
The second way is on the go, using the Android or iOS app called MobileRecharge. It is free to install from Google Play or App Store and has all functions of the website, as well as all current promotions.
Opening an account on MobileRecharge.com costs nothing. Another great advantage is that the entire history log, that is all transactions (invoices) are available in the account 24/7, and have no expiration date. It takes only few seconds to fill in this registration form: https://mobilerecharge.com/account/register. While registering, it is a good idea to subscribe to their Newsletter because MobileRecharge.com sends offers by email.
Another way to stay tuned to offers on international mobile top ups is the Facebook page: https://www.facebook.com/MobileRecharge.Fan
What someone needs to do in order to top up a mobile in the United Arab Emirates or any other country worldwide is to:

create an account on MobileRecharge.com
go to the online ordering form: http://mobilerecharge.com/buy/mobile_recharge
enter or select the necessary details of the transaction (phone number of the beneficiary and the operator it belongs to, the amount to be sent and the payment method)
The credit is sent instantly to the desired mobile number, in "less than 30 seconds" as one customer put it on Twitter, because "it's a no brainer."
Every 2 minutes a new customer joins MobileRecharge.com to top up his or her mobile or a mobile in some other country. On review websites such as Trustpilot, customers point out the aspects that make the service more popular than other global providers:

Transactions are 100% safe.
Paypal accounts are accepted besides all major cards, no matter the currency or country of the sender.
The top up is instant or "fast."
The service is among the easiest to use on the global market.
The website and the app are available in several languages: English, Spanish, German, French and Italian.
The MobileRecharge app for Android or iOS device is simple and intuitive
There are daily promotions always running on the website's "Promotions" page, or on the MobileRecharge app.
The Facebook fans and the G+ or Twitter followers are automatically notified about the on-going promotions as they happen.
The Customer Service is seen as highly supportive (reviews prove this) and it is available 24/7 in both Spanish and English.
Potential customers and existing ones have an expat community on MobileRecharge.com Facebook page: called MobileRecharge.com
Video tutorials are available on YouTube for independent users http://www.youtube.com/c/MobileRecharge
Interesting How-to articles and fun stuff is available on their blog as well: http://blog.mobilerecharge.com/
About MobileRecharge.com
MobileRecharge.com is an interactive website designed by KeepCalling, a global telecommunications company registered in 2002 in USA. Presently, KeepCalling provides its services to hundreds of thousands of consumers and businesses, with a focus on customer satisfaction. KeepCalling has been listed by Inc 5000 as one of the fastest growing companies in the USA for 5 consecutive years. In 2015 the company registered a revenue increase of over 200% from 2011 to 2014.