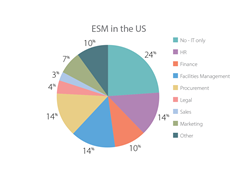 We're pleased to see that most organizations across the US are realizing the benefits of a service management strategy that spans the enterprise.
Washington, DC, USA (PRWEB UK) 12 November 2015
More than 75% of organizations in the US are now using service management for optimized service delivery in at least one department outside IT, according to research published today by service management provider Axios Systems.
Using service management beyond IT gives teams the opportunity to divert resources from manual, time-consuming tasks, in favor of market-differentiating innovations.
Within US-based organizations, HR, Procurement and Facilities Management show equal and significant participation in service management beyond IT, otherwise known as Enterprise Service Management (ESM). Finance and other departments are also active in ESM, according to the findings.
The insights put ESM uptake in the US ahead of the UK (66% uptake), as well as Belgium, The Netherlands and Luxembourg (Benelux – 49% uptake), and Germany, Austria and Switzerland (DACH – 32% uptake).
Among the findings critical to enterprises based in the US, the research also reveals that:

US enterprises are most likely to cite budget/costs, followed by training/knowledge, as concerns about implementing ESM.
Increased operational efficiency is the strongest motivation for implementing ESM in the US.
Procurement and HR are likely to be the biggest priorities for ESM expansion in the US this year.
By using these insights, C-level executives can create actionable talking points to promote the time-saving, revenue-boosting benefits of service management beyond IT.
Markos Symeonides, Executive Vice President of Axios Systems, said: "We're pleased to see that most organizations across the US are realizing the benefits of a service management strategy that spans the enterprise. But we also want to see the remaining 25% of organizations begin to enjoy these benefits, including increased ROI from their service management investment and noticeably better customer service.
"In order for US businesses to retain competitive advantage, they need to fully leverage all opportunities to focus on innovation. This means looking for ways to automate tasks, streamline service provision and measure efficiency — not just in IT, but in every department. ESM allows you to take advantage of such benefits and fully align limited resources to deliver on stakeholder expectations and big-picture business requirements."
Axios Systems produced the research in partnership with one of Europe's leading business schools. The research spans the US, UK, Germany, Austria, Switzerland, Belgium, The Netherlands and Luxembourg. Survey respondents include ITSM professionals from large enterprises ranging from 500 to 5,000 employees.
A complimentary copy of the ESM research paper is available here >> http://bit.ly/1Mi3C5d
About Axios Systems
For over 25 years, Axios Systems has been committed to delivering innovative IT Service Management (ITSM) solutions that help customers improve not only their infrastructure operations, but also to enhance service delivery across business functions, including HR, Facilities Management and Finance. Axios is recognized as a world leader by leading analysts and their global client base, with a 100% focus on service management technologies.
Axios's enterprise ITSM software, assyst, is purpose-built to transform IT departments into profitable business-focused customer service teams. assyst adds tangible value to each client's organization by building on the ITIL® framework to help solve their business challenges across the organization. assyst is accredited for all fifteen PinkVERIFY™ ITIL® processes, and was the first technology vendor to do so within a single solution.
For more information, please visit our website at http://www.axiossystems.com
Press Contact: pr(at)axiossystems(dot)com