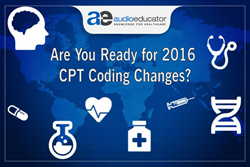 Every year, CPT® is revised and updated to accommodate current terminology, technology and practice. According to American Medical Association, 2016 will see many CPT code changes taking effect
Durham, NC (PRWEB) November 16, 2015
CPT® codes are essential to the documentation for any medical procedures, forming a coding structure that encompasses all medical procedures. However, frequent changes in the coding in the recent past have made it difficult to keep track of the various differences. Frequent changes leads to use of incorrect codes resulting in erroneous reimbursement claims and billing. Many medical service providers, especially small- and medium-sized practices, witness a rise in expenses and compliance costs as they adapt to the new regulatory measures.
With 2016 nearly here, and ICD-10 having come into force recently, this is the perfect time for a review of the changes, along with some lessons from experience, which will aid medical practices in determining the best course for their future coding practices. The costs of non-compliance will be high – both in terms of legal costs and harm caused to the practice, as news of violations in an industry based on quality of service and trust is likely to cause massive damage to reputation. Thus, it becomes imperative that all - medical service providers learn and adhere to the new coding norms to avoid this kind of regulatory trouble.
To help medical practices prepare for the new challenges ahead and comply with the new codes, AudioEducator presents a series of 25+ webinars and audio conferences on CPT® Coding Updates for 2016 from Nov 17, 2015 to Jan 26, 2016 with an esteemed panel of healthcare experts in coding and regulatory compliance. These training sessions will cover major specialties including Cardiology, Pediatrics, Neurosurgery, Neurology, Evaluation & Management, Orthopedics, Emergency Medicine, Urology, Hospice, Pain Management and more. These events will provide participants with the most up-to-date tools to understand the regulations, trends and the directions to which they must turn to adapt to the changing regulatory environment in healthcare coding for 2016.
For more information visit: http://www.audioeducator.com/medical-coding-billing/coding-updates.html
About AudioEducator
AudioEducator.com is the leading source of business-enhancing information for healthcare professionals. Our audio conferences, webinars, DVDs, transcripts and other quality products are designed to educate and improve the lives of healthcare professionals on a daily basis, through topical and relevant events conducted by an unmatched panel of experts. To know more visit: http://www.audioeducator.com