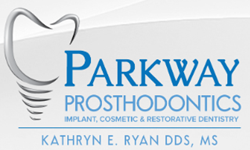 Jacksonville, FL (PRWEB) November 12, 2015
Dr. Kathryn E. Ryan, a prosthodontist in Jacksonville, FL, with Parkway Prosthodontics, is pleased to announce that she is now accepting new patients for smile reconstruction, without first requiring a referral from a general dentist. This allows more patients to seek a smile makeover treatment, without the limiting factor of initially seeing another dentist, often costing patients unnecessary and sometimes exuberant, dental fees.
Smile reconstruction is a type of treatment, designed to improve the appearance of the mouth, through one or more cosmetic or regular dentistry procedures. In some cases, the reconstruction begins by treating underlying conditions that may further affect the appearance of the smile, such as gum recession that may be caused by periodontal disease. Other factors that must be addressed during a smile reconstruction include chipped or crooked teeth, gaps, misaligned bites, worn teeth, and infected gums. Each of these conditions must be fixed before patients can achieve the healthy smile, which they ultimately desire. Conversely, a smile makeover is mostly cosmetic and aesthetically appealing in nature, typically utilizing procedures which improve the appearance. Such procedures may include teeth whitening, veneer placement, and composite bonding.
As a prosthodontist in Jacksonville, FL, Dr. Ryan has all of the tools and experience required to make a smile makeover a success. When the doctor prepares to do a makeover on a patient, she looks at specific facial features to achieve optimal or desired results. Considered features include skin tone, gum tissue appearance, and lips, as well as the color, size, and shape of the teeth. Any noticeable fillings may be replaced with natural composite restorations to remain inconspicuous. Teeth whitening can assist in removing stains, while improving the shade of the teeth.
Each procedure that Dr. Ryan recommends may assist patients in achieving their goal of a beautiful smile. Those who would like to learn more about receiving a new smile, from an skilled prosthodontist in Jacksonville, FL, are invited to contact the doctor's office.
About the Doctor
Parkway Prosthodontics is a prosthodontics practice located in Jacksonville, FL. Dr. Kathryn E. Ryan specializes in prosthodontics, esthetic and implant dentistry. She holds a Certificate of Specialty in Prosthodontics and a Master of Science Degree from Marquette University School of Dentistry, and is a Fellowship trained in implant surgery from the University of Florida, College of Dentistry. Dr. Ryan is a member of the American Dental Association, International Team for Implantology, Northeast District Dental Association, among others, and participates in the Jacksonville Dental Society Study Club, Beaches Study Club and Jacksonville Women's Dental Society Study Club, to name a few. Dr. Ryan and her team are committed to providing patients with quality care using state- of-the art techniques and equipment. To learn more about Parkway Prosthodontics and the services they offer, please visit their website at http://www.parkwaypros.com or call (904) 201-1010 to schedule an appointment.