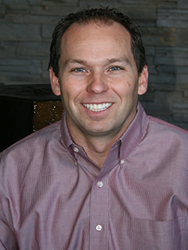 Durango, CO (PRWEB) November 12, 2015
This November is TMJ Awareness Month, and Mason Miner, DDS, is pleased to provide information and corrective procedures for those who suffer from temporomandibular joint disorders. These often include jaw joint pain, facial pain, chronic headaches, sleep apnea, and other serious health issues. Dr. Miner has an emphasis of practice in TMJ treatment in Durango, CO, using advanced methods to align the jaw, relieving the source of the debilitating problems that have developed.
The temporomandibular joint and the muscles around it allow the jawbone to move, while remaining connected to the skull. An injury such as whiplash, teeth grinding or clenching, arthritis, and stress may cause damage to the joint. Jaw joint pain is one symptom of a TMJ disorder. Others include ringing or aching ears, difficulties chewing, headaches and facial discomfort. A person may notice clicking when the jaw is moving, and it is even possible for the joint to lock up, which can inevitably make opening or closing the mouth painful. Sleep apnea is another condition that may arise because of a jaw problem and clenching/grinding. In the United States, roughly 10 million individuals suffer from TMJ disorders.
The misaligned jaw prevents the airway from remaining open when a person lies down to sleep, causing fatigue, headaches, and other serious health problems. Dr. Miner provides TMJ treatment in Durango, CO, for those who are suffering from jaw joint disorders that contribute to sleep apnea. He is familiar with the many treatment options that may be available, depending on the individual's symptoms and specific needs. In some cases, lifestyle adjustments may be sufficient to correct the condition, while other cases may require specially designed and fitted mouth guards to wear at night, preventing clenching, while also allowing the jaw and airways to remain open. Other options are using botulinum neurotoxin and LLLT (Low Level Laser Therapy) to relieve muscle and joint pain.
During TMJ Awareness Month this November, people can discover relief from this debilitating jaw joint pain, headaches, and other problems by seeking TMJ treatment in Durango, CO. There is more information available, about jaw joint disorders and services provided, on Dr. Miner's website.
About the Doctor:
Dr. Mason Miner is a general dentist offering personalized dental care for the entire family, in Durango, CO. Dr. Miner is a graduate of Marquette University School of Dentistry in Milwaukee, Wisconsin. Beyond that, he also completed training in Advanced Education in General Dentistry at the University of Missouri, Kansas City. Dr. Miner focused his studies on the surgical placement and restoration of dental implants, which he offers as a service at his practice. Dr. Miner is a member of the American Academy of Facial Esthetics, American Dental Association, the Colorado Dental Association and the San Juan Basin Dental Society. To learn more about the services offered by Dr. Miner, please visit his website at http://www.masonminerdds.com or call (970) 306-0535 to schedule an appointment.