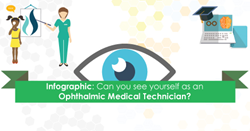 train to become an Ophthalmic Medical Technician...and work with the eye in less than a year
Lansing, MI (PRWEB) November 12, 2015
Career Quest Learning Centers, a career education school with campuses in Lansing and Jackson, Michigan, has created a brand new infographic that looks at the career of an Ophthalmic Medical Technician."Can You See Yourself as an Ophthalmic Medical Technician?" introduces the miracle of the human eye and also the professions of the medical personnel who help to treat it.
Comparing the eye to a camera, the infographic first explains the functions of the various parts of the eye. Then, it lists some of the things that could go wrong with it. With simple explanations, it discusses nearsightedness, farsightedness, astigmatisms and glaucoma. It also highlights a few of the professionals who treat the eye.
The infographic notes that while a profession like Ophthalmology requires 12 years of education after high school, Career Quest Learning Centers students can train to become an Ophthalmic Medical Technician through the Ophthalmic Assistant program and work with the eye in less than a year."Can You See Yourself as an Ophthalmic Medical Technician?" also goes into detail about the specifics of the profession and the tasks that technicians perform. It highlights the skills and training technicians need, along with the equipment they can expect to use in the field.
The infographic also details the training that Career Quest Learning Centers provides its student in its 8 month Ophthalmic Assistant program. The program includes classroom instruction, hands-on application and an externship in the field.
Those interested in learning more about a career as an Ophthalmic Medical Technician can access the infographic now or contact Career Quest Learning Centers to find out how to train to become one!
About Career Quest Learning Centers: Career Quest Learning Centers is a career education learning center specializing in Business, Healthcare, Information Technology and Legal Studies. With a focus on preparing students for employment, they offer concentrated and specific courses with intensive classroom instruction, hands-on training with industry-specific equipment and technology, lessons in personal and career development and a professional and supportive staff. For further information, visit the school's website at: http://www.careerquest.edu/