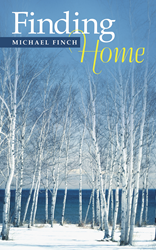 These poems make readers cognizant of the cultural and political threats undermining our country's beauty and should ignite in them a desire to vigilantly protect and recover the liberties that enable it to be such a great nation
STUDIO CITY, Calif. (PRWEB) November 16, 2015
Everyone gets caught with his or her head in the clouds from time to time, nostalgia often the driving force. Perhaps it stems from a longing for past pleasures or the remembrance of a lost love. For others, it is the recognition that American culture and liberties are at a crossroads. It was all of the above for Michael Finch as he wrote the new book, "Finding Home."
A unique poetry collection, "Finding Home" showcases the great beauty of America's past while simultaneously exposing the threats the nation faces in the devaluing of the Constitution and its derived liberties.
"These poems make readers cognizant of the cultural and political threats undermining our country's beauty and should ignite in them a desire to vigilantly protect and recover the liberties that enable it to be such a great nation," Finch said.
The current President and COO of the David Horowitz Freedom Center, Finch is a tireless advocate for the restoration of America's founding principles. This advocacy heavily influences Finch's poetry, as does his Midwestern heritage.
"I write about things that move me—my travels, my loves, and the passions that are stirred by what is happening to our culture and our nation. I try to paint a picture, capture a memory and convey that in verse," Finch said.
The passions of readers will also be ignited as "Finding Home" helps recall past memories and encourages the preservation of American beauty.
For more information, visit http://www.findinghomepoems.com
Finding Home
By Michael Finch
ISBN: 978-1512705072
Available in softcover and e-book
Available on Amazon, Barnes & Noble and Westbow Press
About the author
Michael Finch has more than 25 years of experience in the nonprofit industry, including his current role as the President and COO of the David Horowitz Freedom Center. Originally from the Midwest, David and his family now reside in Studio City, Calif., where he devotes his time to upholding American liberties.
# # #
**FOR IMMEDIATE RELEASE**
For review copies or interview requests, contact:
Jessica Wenclewicz
317.602.7137
jwenclewicz(at)bohlsengroup(dot)com