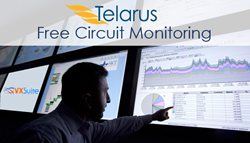 Now our partners can tell their customers they're actively monitoring the products they sell
SANDY, UT (PRWEB) November 14, 2015
Telarus, Inc., master agent of business data, voice, cloud, and data center services, today has completed the development of its network operations center (NOC) and launched a free broadband circuit monitoring service for the benefit of its channel partners. The service will create an alert and notify the customer, the agent attached to the customer, a third-party MSP, and, if desired, the Telarus staff when it detects a broadband connection has failed or become unreliable.
"Now our partners can tell their customers they're actively monitoring the products they sell," says Adam Edwards, CEO and co-founder of Telarus. "Rather than being surprised by an upset customer, our partners can proactively inform the customer of the issue."
Some of the details of the new Telarus circuit monitoring package service are as follows:
-Service outage alerts are delivered, via email, to the Telarus partner and to the end-user customer
-The service is available for all Telarus partners across all Telarus service providers
-For a small upgrade fee, Telarus can place a 3-inch by 3-inch probe into the customer's LAN and generate real-time and historical bandwidth utilization reports
-Uptime and utilization reports can be sent monthly or weekly to the customer and the Telarus partner for use in future conversations
-The service is only available for circuits sourced through Telarus carrier agreements.
"Creating a NOC to monitor our partner's customer's circuits has always been a dream of ours and, frankly, something our partners have been asking for quite some time," says Patrick Oborn, co-founder of Telarus. "When we learned about VXPulse and its vast capabilities, we knew it would help our partners differentiate themselves from others, including direct sales reps who work for the carriers, as well as independent agents working through competitors of Telarus. By adding circuit monitoring to all of their proposals, they will surely stand out and improve their odds of winning the business."
The Telarus NOC is powered by VXPulse, a network performance application built to monitor the performance of voice on data networks from the VXSuite family of products. Telarus acquired the VXSuite software platform in a recent acquisition originally announced on September 16, 2015. Several VXSuite employees have taken leadership positions inside Telarus, including Doug Tolley (senior vice president of sales), Amy Bailey (vice president of marketing), and Michael Brown (vice president of software development).
"We believe our NOC will alleviate some of the fear traditional VARs and MSPs have about establishing a bandwidth sourcing practice," says Roger Blohm, president of VXSuite. "The VX base of partners are primarily VARs and MSPs and most of them tell us they fear the negative consequences of a service outage more than they like the prospect of earning addition residual income from selling network services. By combining the provider relationships Telarus enjoys with the power of VXPulse monitoring each circuit, that fear is addressed with a tangible, tested, reliable solution."
To learn more about becoming a Telarus partner, the Telarus NOC, and the free circuit monitoring program, please visit us online or call us at 877-346-3232. http://www.telarus.com/blog/circuit-monitoring-included-with-all-telarus-circuits.php
ABOUT TELARUS
Telarus, a technology services master agent who holds contracts with over 50 data, voice, and cloud providers. To help our partners See What Others Can't, we have created a set of tools to help them win more business. We are proud to offer our partners:
-Monitoring the performance of all circuits ordered
-Patented pricing tools aide in carrier selection/optimization
-Cloud Engineers to aid partners in complex network design
-Project management team to ensure the services ordered are turned up properly
-Base management to allow partners to focus on selling while our team manages the renewal process
Telarus was voted the best master agent by the members of the Telecom Association for over five years in a row and is a top 3 channel partner for nearly all providers it represents.
ABOUT VXSUITE
VXSuite software provides analytical data that gives VARs and agents the chance to engage their customers on a consultative and strategic level. By bringing VXSuite into a customer's environment, the customer and the partner become a team and work together to solve issues using the data VXSuite collects and analyzes. The VXSuite modules include: VXTracker for CDR analytics
-VXPulse for network performance
-VXMobile for mobility analytics
-VXDash for a consolidated UC performance dashboard
It provides actionable business intelligence on how to define, design, integrate, optimize, and manage the technologies that make up the ecosystem as well as monitor and support each customer's unique configuration. For more information about VXSuite call accounting, network monitoring, and VoIP diagnostic tools, please visit VXSuite.com.