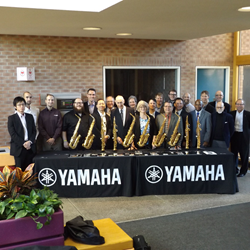 (PRWEB) November 13, 2015
Yamaha Saxophone Artist Eugene Rousseau was honored at a two-day celebration at the University of Minnesota School of Music for his tremendous contributions to music education and for expanding the classical saxophone repertoire. Rousseau retired from his position at the university earlier this year.
The event, hosted by Preston Duncan, Rousseau's successor at the school, featured many prominent works for classical saxophone performed by students and colleagues of the honoree. Performers included Yamaha Saxophone Artists Rhett Bender, Nathan Bogert, Carolyn Bryan, Kyle Hutchins, Michael Jacobson, Patrick Jones, Otis Murphy, Eric Nestler, Julia Holan, Stephen Page, Iwan Roth, Steven Stusek, Kenneth Tse, Thomas Walsh and George Wolfe.
The opening concert featured groundbreaking new works for saxophone. The following day, three stellar recital performances showcased pieces within the classical saxophone canon, including the music of Jindřich Feld, some of Rousseau's favorite compositions, along with works commissioned and transcribed by Rousseau. Rousseau concluded the celebration with a spectacular performance, accompanied by the Rousseau Celebration Saxophone Ensemble.
Prior to the finale, John Wittmann, director of artist and education relations at Yamaha, presented Rousseau with the Yamaha Legend in Education Award. A member of the Yamaha Artist family since 1973, Rousseau's 42-year friendship with Yamaha has resulted in presentations at various international conferences and performances all over the world, as well as the design of several ground-breaking professional and custom saxophone models.
Rousseau has accomplished many firsts in the saxophone world, including performing the first solo saxophone recitals in Paris, Berlin, Vienna, London and Amsterdam; presenting the first saxophone master classes at the prestigious Mozarteum in Salzburg, Austria; and co-founding the World Saxophone Congress in 1969. Rousseau served on the music faculty at Indiana University from 1964 to 2000 followed by a position at the University of Minnesota. Building on a lifetime of achievements and barrier breaking, Rousseau continues to perform, record, write and conduct master classes.
For more information, please visit http://4wrd.it/yamahaartists.
-END-
Photo caption: Back row, left to right: Scott Yousey, Brian Petterson, Stephen Page, George Wolfe, Carolyn Bryan, Preston Duncan, Steven Stusek, Kyle Hutchins, Patrick Jones, Thomas Walsh, John Wittmann.
Front row, left to right: Yosuke Sasaki, Nathan Bogert, Kenneth Tse, Eugene Rousseau, Julia Nolan, Michael Jacobson, Rhett Bender, Otis Murphy, Iwan Roth, Larry Chamberlain.
About Yamaha
Yamaha Corporation of America (YCA) is one of the largest subsidiaries of Yamaha Corporation, Japan and offers a full line of award-winning musical instruments, sound reinforcement, commercial installation and home entertainment products to the U.S. market. Products include: Yamaha acoustic, digital and hybrid pianos, portable keyboards, guitars, acoustic and electronic drums, band and orchestral instruments, marching percussion products, synthesizers, professional digital and analog audio equipment, Steinberg recording products and NEXO commercial audio products, as well as AV receivers, amplifiers, MusicCast wireless multiroom audio systems, Blu-ray/CD players, earphones, headphones, home-theater-in-a-box systems, sound bars and its exclusive line of Digital Sound Projectors. YCA markets innovative, finely crafted technology and entertainment products and musical instruments targeted to the hobbyist, education, worship, music, professional audio installation and consumer markets.