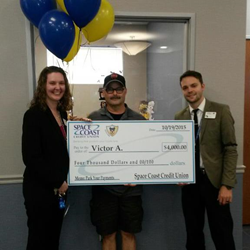 Every time I apply for a loan I just make one phone call and I receive a quick response.
(PRWEB) November 12, 2015
Space Coast Credit Union (SCCU) recently announced Palm Coast resident Victor A. as the $4,000 grand prize winner of its Park Your Payments Auto Refinance Sweepstakes. The credit union ran the sweepstakes from July 15, 2015 through September 30, 2015 based on the fact that qualified members could "park their payments" by deferring their auto loan payments on any vehicle purchase or refinance for up to 90 days.
To enter the sweepstakes, participants filled out an online calculator on SCCU.com which calculated approximately how much money they could save by refinancing their existing auto loan with SCCU. Anyone who purchased or refinanced an auto loan with SCCU during the time of the promotion was also automatically entered to win.
Over 900 people entered the sweepstakes by filling out the online calculator and nearly 1,300 members refinanced their auto loan from another lender to SCCU during the campaign, totaling over $30 million. Victor was selected as the sweepstake's grand prize winner in a random drawing on October 19, 2015.
"The staff is great," Victor said. "The service is also. Every time I apply for a loan I just make one phone call and I receive a quick response."
Using the calculator itself was a simple task – participants needed only to enter the remaining balance on their existing loan, the term of the loan, and their interest rate to be shown approximately how much they could save by refinancing their auto loan with SCCU. In addition to their potential savings, participants were also shown their approximate monthly payment, a graph illustrating how their monthly payment would decline as the loan term increased, and a table outlining their estimated annual schedule of payments throughout the life of the loan.
"Many people are either not aware they can refinance a vehicle loan, believe they may have to wait a certain amount of time after the purchase, or do not believe it will be worth their time," said Gary Prager, Director of SCCU Consumer Sales. "If you know your credit score and vehicle information, our Express Sales Associates can identify the opportunity for savings in just a few minutes and provide a quick comparison against your current loan. Best case scenario we can save you money in minutes, worst case scenario you already have great rate that you get to keep."
****
Space Coast Credit Union was chartered in 1951 and is headquartered in Melbourne, Florida. The Credit Union serves over 280,000 members with assets of over $3 billion through a network of 58 branches and over 100 ATMs located throughout Florida and through its web site, SCCU.com. Space Coast Credit Union is open for membership to anyone who lives or works in the fourteen Florida counties it serves. Locations can be found at SCCU.com/locations.