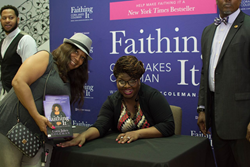 Your Storms May Be Big, But God is Bigger! - Cora Jakes Coleman
(PRWEB) November 17, 2015
Discover how to take life's storms and turn them into pathways to promotion and divine purpose! Turn ones storm into an unshakable relationship with God and a ministry that touches people's lives. Be a part of the Faithing It movement today!
Cora Jakes Coleman shares her inspirational story of spiritual growth to set the stage for this life-changing message. Faithing It is not about pretending away ones problems—it's about facing circumstances with confidence because one can see themselves measured next to the chain-breaking, miracleworking power of God.
Cora is passionate about living a life of purpose and fertility (the ability to produce!). She is a preacher, author, singer, and wife to her wonderful husband Brandon Coleman, as well as mother to her beautiful daughter Amauri and energetic son Jason, aka "Tuga" "Tuga."
As eldest daughter to world renown Bishop Jakes, and First Lady Serita Jakes, Cora directs the children's ministry at The Potter's House of Dallas in addition to her Cora Jakes ministry efforts. Faithing It is her first book.
She not only a compassionate warrior for young women battling infertility, she has a heart for all people who are trying to get and reach their promise.