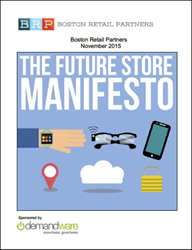 Stores must now encompass both worlds – the sensory experience of the physical store combined with the personalization and convenience of online shopping.
Boston, MA (PRWEB) November 17, 2015
We are on the cusp of a significant and fundamental transformation within the store environment. Boston Retail Partners (BRP) published "The Future Store Manifesto" today to articulate its vision of the future store and identify the challenges and imperatives retailers face in delivering the experience consumers expect.
"Stores must now encompass both worlds – the sensory experience of the physical store combined with the personalization and convenience of online shopping. The most successful retailers will seamlessly blend the physical with the digital in the future store," said Ken Morris, principal, Boston Retail Partners. "Retailers can no longer afford to operate from within silos and must transform their technology, business processes, and organization to align with their customers' expectations."
"The technology in stores today is outdated and broken – it can't support the real-time connection between the consumer, the associate, inventory and pricing essential to the omni-channel experience. It's time for change," said Eric Olafson, senior vice president of store solutions, Demandware.
Online shoppers are accustomed to features such as product reviews, extensive assortments, one-click transaction processing and personalized recommendations. These expectations don't dissipate when they walk into a physical store. Retailers must therefore infuse digital features into the store environment to exceed customer expectations, compete more effectively with online pure-play retailers and offer a better, more complete, shopping experience.
Attaining the store of the future is a challenge, as many retailers are saddled with legacy systems, inconsistent customer data, and are generally not organized in a way that supports this transformation. Retailers must shift their focus from channel integration to a holistic customer experience. It is imperative to evolve both multi-channel and omni-channel retailing to provide a seamless shopping experience in the store, on the Web and on mobile devices.
To download The Future Store Manifesto, visit: https://bostonretailpartners.com/the-future-store-manifesto/
The Future Store Manifesto paper was sponsored by Demandware.
About Demandware
Demandware, the category-defining leader of enterprise cloud commerce solutions, empowers the world's leading retailers to continuously innovate in our complex, consumer-driven world. The Demandware open cloud platform provides unique benefits including seamless innovation, the LINK ecosystem of integrated best-of-breed partners, and community insight to optimize customer experiences. These advantages enable Demandware customers to lead their markets and grow faster. For more information, visit http://www.demandware.com, call +1-888-553-9216 or email info(at)demandware(dot)com.
About Boston Retail Partners
Boston Retail Partners (BRP) is an innovative and independent retail management consulting firm dedicated to providing superior service and enduring value to our clients. BRP combines its consultants' deep retail business knowledge and cross-functional capabilities to deliver superior design and implementation of strategy, technology, and process solutions. The firm's unique combination of industry focus, knowledge-based approach, and rapid, end-to-end solution deployment helps clients to achieve their business potential. BRP's consulting services include:
Strategy | Business Intelligence | Business Process Optimization | Point of Sale (POS)
Mobile POS | Payment Security | E-Commerce | Store Systems and Operations | CRM
Unified Commerce | Customer Experience & Engagement | Order Management
Merchandise Management | Supply Chain | Information Technology | Private Equity
For more information on BRP, visit http://www.bostonretailpartners.com.