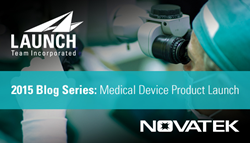 Rochester, NY (PRWEB) November 17, 2015
Launch Team, Inc. has partnered with technical writing and documentation firm Novatek Communications, Inc. to create a medical device industry blog series for the second consecutive year. The series includes market insights from recent conferences as well as tips for product launch, usability, product positioning, marketing and documentation strategies. The series features blogs, a video, and a podcast :

An Outlook on Medical Device & Manufacturing Markets
Novatek President Amy Castronova and Launch Team President Michele Nichols talk about the economic status and barriers to growth in medical device and manufacturing markets.
Trends and Challenges in Medical Devices
Learn about the trends and challenges heard at the MedTech Conference and the changes they will bring to the medical device industry.
Medical Device Trends and Challenges Podcast
In this podcast, Amy Castronova and Michele Nichols talk in more detail about topics discussed at MedTech, what they mean for the industry, and how to market the coming changes.
Differentiating Through Usability
Read why usability in a commoditized environment, such as medical device, benefits manufacturers trying to differentiate themselves.
Creating Competitive Advantage with Product Positioning
This blog explains how positioning your company or product in a way your competitors can't drives business and adds value.
Creating a true differentiator helps you gain competitive edge. This video shares the top five times companies need to pay attention to positioning.
Check out Launch Team's blog and Novatek's blog to see what other topics the series covers during November.
About Launch Team
Launch Team (http://www.launchsolutions.com) has an almost 30-year history of helping high tech companies position for success. Their integrated marketing services build clients' brands and create message continuity across all customer touch points.
About Novatek
Novatek Communications (http://www.novatekcom.com) has helped companies in regulated and deadline-driven environments launch new products and capture key processes. Novatek's custom documentation and training materials result in knowledge that improves usability and customer satisfaction without complexity and confusion.