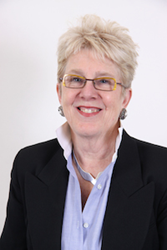 Boston (PRWEB) November 12, 2015
UbiCare's mission of Making Us All Better is a passion that extends beyond its healthcare focus and into the community. That passion starts at the top—with CEO, President and Co-Founder Betsy Weaver's commitment to current and aspiring women business leaders.
Weaver, Ed.D., has used her roles with the Jamaica Plain-based patient-education technology company to fulfill that commitment. To her staff and through UbiCare's social responsibility efforts, in particular, she promotes the idea of women helping other women learn and grow professionally.
"It is so important, particularly for us in the male-dominated field of technology, to support the education and growth of women and women-owned businesses," says Weaver.
UbiCare was recently recertified as a Women's Business Enterprise by the Center for Women & Enterprise, a New England-region non-profit focused on growing women-owned businesses and a partner of the Women's Business Enterprise National Council (WBENC).
As a certified Women's Business Enterprise, UbiCare is able to network with other women-owned businesses across the U.S. and take advantage of professional development opportunities aimed at growing women-run companies.
"Being part of WBENC has allowed us to make important connections with other women business leaders and to stand out in the technology field," Weaver says.
In addition to her involvement in WBENC, Weaver supported a corporate social responsibility program at UbiCare this year. Dubbed the "Year of the Essentials," this initiative has focused on food, clothing and education for people in need. UbiCare's staff has volunteered at Cradles to Crayons', sorting donated baby clothes; at the Partners for Youth with Disabilities' Young Entrepreneurs Project, teaching school children about interviewing techniques and career preparation; at Revision Urban Farm, harvesting fruits and vegetables for homeless families and urban farm stands; and at Community Servings, packing meals for homebound Boston residents.
"It is so rewarding for our team members to give back to those in need who live right in our community," Weaver says. "We develop a special bond with each other by volunteering together."
Weaver's professional history includes entrepreneurial roles at several communications companies in the print and digital space. She launched and published the nationally acclaimed magazine The Boston Parents' Paper, founded the award-winning family websites ParentingQ&A.com and LocalMom.com, and acquired TheCyberMom.com. ParentingQ&A.com was the web content provider for the General Mills' Cheerios site, as well as for SmarterKids.com.
Weaver was named a finalist in the Enterprising Women of the Year Awards by Enterprising Women magazine in 2010.
In addition to her roles at UbiCare, she speaks nationally about the digital healthcare industry.
###
About UbiCare
UbiCare, an award-winning digital healthcare communications and technology company, creates connections that make us all better.
By building and sustaining effective patient/provider relationships throughout the care continuum, UbiCare reduces unnecessary healthcare costs by up to 30%. UbiCare messaging series essentially turn hospitals and health systems into patient-centered innovators, educating patients and improving satisfaction.
UbiCare earned a Dun & Bradstreet customer-service rating of 93 percent. Clients include Texas Health Resources, Boston Children's Hospital and the Department of Defense. For more information, visit http://www.ubicare.com.