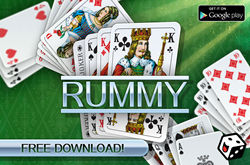 We focused a great deal on what our customers wanted when designing the game and were able to include a lot of invaluable feedback from the community
Hamburg, Germany (PRWEB) November 14, 2015
The casual games publisher LITE Games, headquartered in Hamburg, will be releasing the card game Rummy for Android in the Google Play Store on Nov 12, 2015. In doing so, this new Android title finally follows in the footsteps of the iOS hit of the same name in the Apple App Store.
The free Rummy app is now available worldwide and is characterized by an intuitive interface and user guidance that is easy to understand. The card game offers a wide range of configuration options. For example, the Rummy rules can be modified according to users' preferences. Rummy for Android has been fully localized in seven languages: German, English, Spanish, French, Italian, Dutch, and Polish. "For us, a good translation is invaluable for international gaming fun. We want as many people as possible to enjoy our game. In order for this to happen, it was important for us to speak to customers in their own language," explains Christian Twellmann, Managing Director of LITE Games GmbH.
Numerous other game options are also available. "We focused a great deal on what our customers wanted when designing the game and were able to include a lot of invaluable feedback from the community," continues Twellmann. For beginners, the simple Rummy rules offer a short overview of the most important game moves. Experienced players can play to unlock numerous achievements and share them with their friends on Facebook.
Easily-readable results lists show the current progress of each round and players no longer need to manually add up their points— the app takes care of that. Furthermore, the player can take on up to three computer-controlled opponents at the same time and attempt to declare Rummy. The difficulty of the opponents can be adjusted at any time, challenging both beginners and pros alike with just the right difficulty level.

Rummy for Android can be played for free
Android version 4.0.3 and up
53 MB
Playable on Android phones and tablets
Supports seven languages
Available worldwide in the Google Play Store starting on Nov 12, 2015
Company info:
LITE Games GmbH was founded in 2014 in Hamburg, Germany and focusses on developing and publishing "casual classics" for the mobile operating systems Apple iOS and Android.
The constantly expanding portfolio of LITE Games currently comprises more than 30 games, the emphasis lies on the adaption of classical game concepts, and contains card games like Rummy, Canasta or Crazy Eights as well as board-, brain- or dice- games.
With more than 20 million downloads and many internationally top ranking apps in the most important app stores (Apple, Google, Amazon) LITE Games is one of the leading providers of mobile casual games.