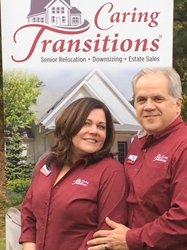 Syracuse, NY (PRWEB) November 12, 2015
When Jennifer and Michael Novak decided it was time to pursue their life-long dream of being business owners, they knew they wanted to serve seniors. Now the two are looking forward to doing just that with their new business, Caring Transitions of Syracuse.
Caring Transitions is America's largest resource for managing senior relocations as well as downsizing and estate liquidations. In addition to organizing, packing, decluttering, moving and resettling, Caring Transitions can handle estate sales, liquidations and preparing homes for market. Caring Transitions of Syracuse serves Syracuse, Clay, Cicero, Brewerton, Bridgeport, Liverpool, Lysander, Baldwinsville, Salina, DeWitt, Fayetteville, Manlius, Minoa, Camillus, North Syracuse, Geddes, Van Buren and Solvay.
Jennifer's background is primarily in the health care field. She also has experience in marketing, banking and management. Michael's career after the military has been in management and sales.
"We always wanted to own our own business and I was at the point where I wasn't feeling fulfilled in my current position anymore. We talked about what kind of business we'd want, but nothing felt right until we came across Caring Transitions. We did our research and thought, you know, this could be it. This is what we've been looking for," Jennifer said.
Whether your situation is planned or unexpected,Caring Transitions' services are perfect for seniors moving in with family or into a safer living situation as well as busy families and people clearing out the home of a loved one who has passed. All of Caring Transitions' services are customizable, so clients only pay for the services they need – whether that means managing the entire move and estate-clearing or just getting someone resettled into their new place.
"We are take charge kind of people and that's important when you're trying to pack up a house, help someone move, get someone settled or manage an estate. Relocating a senior or handling the house after someone has passed can be an emotionally and physically exhausting time, so it's helpful to have someone who can come in and take on that stress. Even if you're in perfect health, taking on that kind of endeavor can be truly challenging. When your situation is not ideal, it can be overwhelming without help," Jennifer said.
"We want to be the people you can turn to when you need relief. We are here to help," Michael added.
Caring Transitions is also a great resource for seniors who don't have family nearby or who would rather spend quality time with their loved ones when they're in town.
"We know that friends and family want to help and would be there if they could, but it's just not always possible and sometimes having them help is stressful. We want to fill those shoes. We want to be a proxy family member who can advocate for your best interests. This is more than a company for us – it's an opportunity to make a difference," Michael said.
The Novaks are Certified Relocation and Transition Specialists, a designation bestowed by an independent organization that evaluates providers of senior relocation services. Caring Transitions of Syracuse is bonded and insured, and all employees are background-checked. Jennifer and Michael have been married for 31 years and have two grown children, Rebecca and Tyler.
For additional information about Caring Transitions and to learn how the company can help you and your family, call (315)401-7633, email JNovak(at)CaringTransitions(dot)com or MNovak(at)CaringTransitions(dot)com, or visit http://www.CaringTransitionsOfSyr.com.
About Caring Transitions
Caring Transitions, founded in 2006, is the first national franchising concept specializing in senior relocation and transition services. With more than 150 locations throughout the United States all owned and operated by Certified Relocation and Transition Specialists, Caring Transitions provides clients with supportive moves, auctions, rightsizing and transitions. This includes expert advice plus a well-executed transition plan beginning with the initial sorting of personal belongings through packing, shipping and selling of items to the final clearing and cleaning of the property. For more information, visit http://www.caringtransitions.com or visit us on Facebook.