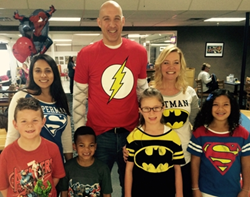 Having diversity in our home and a new foreign nanny being part of the family is exactly what we needed.
Salt Lake City, UT (PRWEB) November 17, 2015
Adoption is hundreds of thousands of stories of loss and of course redemption for both birth parents and adoptive parents. November is the month the country comes together to build awareness of adoption by encouraging birth parents and potential adoptive parents to participate November 21, the day our nation makes its greatest push.
For some mothers - getting to motherhood is not as easy. The struggle of waiting and hoping for a baby and then of determining solutions to find a way to care for the children and help them adjust once they do arrive are all a part of adoption process.
Tracey Vollrath was told over and over by doctors – "you are never going to have any children." Tracey said, "The constant roller coaster of pregnancies followed by miscarriages beat me down. The heartache was unbearable. I was so distraught over the loss I had gone through."
The Vollraths started doing research and opted to go the adoption route. The paperwork was extensive but helpful for Tracey to get her mind off of her grief. They were told it could take up to a year to have a baby placed with them, but nine days after all the paperwork was turned in their Polynesian/Caucasian/African American/Hispanic baby girl arrived. Immediately they became a transracial family. Four children later, two natural and one more adopted, they needed a flexible and diverse childcare provider so they used Au Pairs to help out. "Because we have a colorful family, we wanted to have someone caring for our children that would add even more flavor to our already diverse family. An Au Pair from another country would fit our puzzle perfectly. We wanted our children to feel being different is wonderful and having another cultural different member of our family made them feel normal too."
Another couple, Rony Smith-Ghelter and her husband from Georgia, decided to adopt twin girls from China after years of trying for their own. Through the adoption process Rony knew she would need to continue working and would need childcare.
"My twins had spent the first nine months of their lives in an orphanage surrounded by nannies that cared for them 24/7," said Rony. A friend suggested the family use an Au Pair for their childcare. "I loved the idea of them being in a stable environment and never having to take the children out in inclement weather, or subjecting them to illness of others, or worry about sitter not showing up. It was a perfect fit for us."
Rony shares with as many people as possible about her experience with adoption and with Au Pairs. "The impact our Au Pairs had on our family is why I wanted to get involved as a Local Area Representative. Our Au Pairs taught our children valuable life lessons that they continue to do to this day." Adoption and Au Pairs are a great combination especially for interracial adoptive families.
Nationaladoptionday.org tracked more than 4,500 adoptions as a result of activities in more than 400 cities in the United States in 2014. Since it's inception national adoption awareness has helped with nearly 54,500 adoptions. Go Au Pair is one of the original Au Pair Program sponsors designated by the department of State in 1989. There are Go Au Pair representatives in more than 100 American cities.