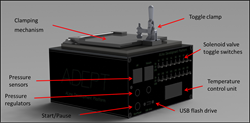 ALine's ADEPT+ addresses integration issues 'where the hard problem solving needs to be done.'
Rancho Dominguez, California (PRWEB) November 17, 2015
ALine Inc., provider of engineering, rapid prototyping and volume production of microfluidic devices for life sciences research, announces the ADEPT+, a microfluidic control instrument that integrates pneumatic and temperature control for the development of molecular assays including PCR, and library preps.
ADEPT+ is designed to meet the needs of product developers who want to move from a benchtop or robotically controlled workflow to a system in which most of the assay protocol, including reagent manipulations, mixing, and thermal profiles, are managed in a microfluidic device. Instrumented control of the microfluidic device by ADEPT+ allows optimization of the assay workflow for rapid thermal transfer and larger surface to area volume.
"We have seen a shift in our customers' development needs to include not only support for the microfluidic device, but also for best practices for interface and control of the device in an instrument," said Leanna Levine, Ph.D., ALine's president and CEO. She added that ADEPT+ will help developers resolve integration issues "where the hard problem solving needs to be done."
"Now, our customers can focus on assay optimization, and not on the interfacial engineering that often frustrates programs," Levine said. "In combination with our design and rapid prototyping of the microfluidic device, we offer a complete development solution for clients wishing to move quickly to optimize a molecular assay in a microfluidic device."
ADEPT+ is ALine's latest product innovation in support of microfluidic device development across multiple industries including medical, laboratory research, and environmental. ADEPT pneumatic instruments support complex assay workflows including metering, mixing, de-bubbling and dispensing.
ADEPT+ includes up to 12 pneumatic channels, a thermal zone and a clamping manifold, enabling thermal and pneumatic control. The instrument will be available on the market December 1, 2015.
ALine, Inc. is a woman-owned and operated microfluidics engineering, rapid prototyping and low to mid-volume OEM manufacturing firm established in 2003. Our mission is to address the need for high quality, reproducible microfluidic prototyping to shorten the design/build test cycle. Our projects include cell culture in space, field portable point-of-use microfluidic cartridges and Lab-on-a-Chip products.