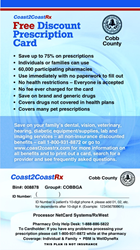 Marietta, GA (PRWEB) November 13, 2015
The Coast2Coast Rx Card program has saved Cobb residents $3,047,779.78 dollars since the launch of the Coast2Coast Rx Card discount prescription program on November 13, 2012. The Cobb County Board of Commissioners and the Association of County Commissioners of Georgia endorse the program.
The complimentary discount prescription card program provides residents and their families with a number of benefits that produce immediate discounts on prescriptions as well as dental, vision, veterinary and hearing services. The discount card also offers discounts on various lab and imaging services; diabetic supplies and equipment as well as pet prescriptions. Not only does the Coast2Coast Rx program facilitate discounts on healthcare resources for Cobb County residents and their families -- the program provides a royalty of $1.25 per prescription for Cobb County public programs. Anyone in Georgia can download a card of their county or any nearby county to use the card at all chain pharmacies and many independent pharmacies. Residents who would like to participate in the free Coast2CoastRx prescription savings program can print a card here: Cobb County
"Providing cost-effective county programs to citizens is a significant goal for Georgia's county officials, " said Ross King, Executive Director of the ACCG. "The ACCG partnership with Coast2Coast has allowed our organization to assist them in meeting that specified goal." Specifically, Cobb County residents have seen an average of 80% savings on their prescriptions when they present the card. There are currently 7,143 utilizing members within the county. Cobb County has saved residents $912,174.98 on their prescriptions this year.
"We are pleased to work with Cobb County, which prides itself on providing programs that enrich the lives of its residents, in assisting its families with beneficial discounts on health related needs. It is of utmost importance to the Cobb County Commissioners Court and the Coast2Coast Rx program to help those in need of obtaining prescriptions and other health care related services," said Martin Dettelbach, Chief Marketing Officer of the Coast2Coast Rx program. He added, " We look forward to continuing and growing our relationship with Cobb County and maintaining savings on health services for Cobb families."
The Coast2Coast Rx card allows all consumers, regardless of income, age, or health status to participate in the program and save on the cost of their medications. The program has saved cardholders throughout the nation an average of 65% in 2015 on the cost of prescription drugs. The Rx card is distributed free of charge and may be used at all pharmacy chains and most independent pharmacies in Georgia and includes over 60,000 drugs in its formulary. Anyone in Georgia can download a card of their county or any nearby county to use the card at all chain pharmacies and many independent pharmacies.
###