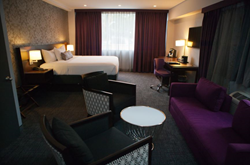 WHITE PLAINS, N.Y. (PRWEB) November 12, 2015
There is no better way to get into the holiday spirit than to enjoy all that Westchester County has to offer this winter season with family and friends.
"We welcome visitors to enjoy Westchester this holiday season, where comfort, charm and a variety of festive events are guaranteed to provide an unforgettable experience," said County Executive Robert P. Astorino. "Visitors can enjoy a holiday parade featuring Santa and hundreds of holiday lights, Westchester's very own Winter Wonderland as well as a night at the theater, shopping and gourmet dining options. 'Meet Me' in Westchester for the holidays to create beautiful memories with your loved ones."
Upcoming activities and events are highlighted below:
'Tis the Season
Help the Cross County Shopping Center kick off the start of the holiday season with its first Holiday Parade and Tree Lighting Celebration, which will host Westchester's only winter fireworks display. On Friday, November 20, watch marching bands, dance groups, holiday characters and of course Santa stroll in the parade around the shopping center. Then, end the night by counting down to watch its 40 foot tall Christmas Tree light up, and enjoy fireworks. Santa will be available for photographs throughout the holiday season, from Saturday, November 14 through Thursday, December 10 (closed on November 26 for Thanksgiving). The shopping center will also provide extended hours for shopping during the holiday season. Cross County Shopping Center is located at 8000 Mall Walk in Yonkers. For more information, visit crosscountycenter.com.
Prepare for a trip to the North Pole. Westchester's Ridge Hill shopping center is home to the DreamPlace, The North Pole Adventure through Wednesday, December 24. DreamPlace is an unforgettable journey inspired by a child's most memorable experience of meeting Santa Claus. The completely reimagined "Mall Santa" experience developed by the creative minds at DreamWorks Animation is an attraction that takes families on a virtual journey to the North Pole with the cast of characters from DreamWorks' Shrek movies and culminates in a private, personalized meeting with the man of the season, Santa Claus. The mall will also provide extended hours for shopping during the holiday season. Westchester's Ridge Hill is located at One Ridge Hill Boulevard in Yonkers. For more information, call (914) 207-2900 or visit westchestersridgehill.com/.
Kicking off on Friday, November 27, the second annual Westchester's Winter Wonderland is designed to be bigger and better this year with several new features for families to enjoy. The New York Rangers will sponsor the ice skating rink, which will be double the size of last year's rink and the same size as the rink at Rockefeller Center in New York City. To be named "RangersTown," the rink will give visitors the opportunity to meet New York Rangers alumni and receive fun giveaways. Other new features to the event include a third amusement ride, an expanded Shopping Village of artisan crafts and gifts, as well as a new heated entertainment tent with holiday programming to add to signature attractions that include the Santa Experience. For more information about Westchester's Winter Wonderland, visit wwinterwonderland.com.
At Lyndhurst, Mr. Dickens Tells a Christmas Carol is an entertaining theatrical event for families to enjoy. An impersonator will recreate Charles Dickens' own readings of the classic tale that brings the travails of Ebenezer Scrooge, Bob Cratchit and Tiny Tim alive. Dickens wrote a Christmas Carol in 1843 and performed public readings while touring throughout England beginning in 1857 and in the U.S. from 1867-1868. The performance is given throughout the rooms of the main floor of Lyndhurst mansion. Performances begin Friday, December 4 and continue through Sunday, December 27. Come see the words of Dickens in a historic period setting. Visitors will follow Mr. Dickens and his imagined helper, Mrs. Wiggins, as he wanders through the mansion to tell his tale. Lyndhurst is located at 635 South Broadway in Tarrytown. For more information, visit lyndhurst.org.
Experience the tale of Ebenezer Scrooge with Historic Hudson Valley. Nestle in to historic Christ Episcopal Church and let master storyteller Jonathan Kruk, complete with musical accompaniment, regale you with his adaptation of this Charles Dickens classic. Washington Irving served as a vestryman at this 1837 red brick church. His pew remains on display for visitors to see. See this performance starting on Saturday, December 5. For more information, visit http://www.hudsonvalley.org/events/dickenss-christmas-carol.
Music is in the Air
Nothing says a classic holiday attraction than The Nutcracker at Westchester County Center. Starting Friday, December 18, The Westchester Ballet Company will put on its production of this magical holiday tale with spectacular scenery and costumes, classic choreography and special stage effects. Westchester County Center is located at 198 Central Avenue in White Plains. For more information or to purchase tickets, visit http://www.countycenter.biz.
The holidays provide a splendid occasion to visit the Rosen House at Caramoor Center for Music and the Arts for Holiday Tea Musicales. On select days December 3-17, visit the landmark where the afternoon starts with a docent-led tour of the Rosen House, beautifully decorated for the season. It will be reminiscent of holidays past, when the Rosens were in residence at their beloved country home. The tour is followed by a joyful 45-minute concert of holiday music in the majestic Music Room. A special Afternoon Tea consisting of finger sandwiches, scones, scrumptious holiday treats (hot chocolate with marshmallows for the children), and a variety of teas, will be served in the wonderfully decked out Summer Dining Room to end a festive afternoon. Caramoor Center for Music and the Arts is located at 149 Girdle Ridge Road in Katonah. For more information, visit caramoor.org/events/holiday-tea-musicales-2015.
Looking for a more theatrical holiday season? Join Westchester Broadway Theatre for their very special holiday show "Tim and Scrooge," starting Thursday, December 3. Ever wonder what happens after "A Christmas Carol" ends? In this performance, Scrooge is dead ten years later and Tiny Tim is about to turn 21. Scrooge, like Marley before him, comes back to help Tim, no longer Tiny, make choices about love and career. Written in the style of Dickens with original, soaring music, by the team of Neil Berg and Nick Meglin (former editor of Mad Magazine), "Tim and Scrooge" is sure to become a new Holiday classic for young and old alike. Westchester Broadway Theatre is located at 1 Broadway Plaza in Elmsford. For more information and to purchase tickets, visit broadwaytheatre.com or call (914) 592-2222.
Stay and Play
Find solace in a hotel that provides a comfortable, intimate and welcoming setting at the newly renovated Royal Regency Hotel. This family owned and operated hotel creates an atmosphere that is engaging and fun. The Royal Regency Hotel broke ground on a major multi-million dollar renovation project in early 2014, transforming the hotel into Westchester's first boutique hotel, making it perfect for traveling guests, business meetings and events, holiday parties, weddings, non-profit galas and social parties. Virserius Studio completely redesigned the hotel's 88 standard guest rooms, five luxury suites, lobby and reception areas, its Crystal ballroom, and meetings and event spaces to feel fresh and modern. The Royal Regency Hotel is located at 165 Tuckahoe Road in Yonkers. For more information on how to book your stay, visit royalregencyhotelny.com.
Enjoy the Discover With You package at The Ritz-Carlton, Westchester. Starting at $349 per night, enjoy deluxe accommodations, daily American breakfast for two in The Lounge or In-Room Dining, a seasonal welcome amenity and a $50 hotel credit. Also enjoy the convenience of nearby holiday shopping at The Westchester. The Ritz-Carlton, Westchester is located at 3 Renaissance Square in White Plains. For more information, visit ritzcarlton.com or call (914) 946-5500.
Whether you are planning a vacation from New York City, or a quiet weekend getaway in upstate New York, Tarrytown House Estate offers a variety of Westchester hotel packages and deals to help you plan the perfect holiday escape. Just 25 miles from Midtown Manhattan, this hotel outside New York City blends historical charm with modern conveniences to create a spectacular Hudson River Valley. With the signature Bed & Breakfast package, guests enjoy Deluxe room accommodations for two, which includes the delicious full American buffet breakfast in the property's historic Biddle Mansion. Tarrytown House Estate is located at 49 East Sunnyside Lane in Tarrytown. For more information, visit tarrytownhouseestate.com.
For the latest events and happenings in Westchester, log onto http://www.visitwestchesterny.com, like us on Facebook (facebook.com/westchestercountytourism), follow us on Twitter @westchestertour or call 1-800-833-9282. To view the Westchester County Destination Guide, please visit http://digital-editions.todaymediacustom.com/westchester-destination/2015
About Westchester County Tourism & Film
Tourism & Film is Westchester County's official destination marketing organization. Its mission is to generate economic benefits by enhancing the image and promoting Westchester County as a premier business and leisure destination in the Hudson Valley region. The Tourism & Film Office in Westchester County is a division within County Executive Robert P. Astorino's Office of Economic Development.