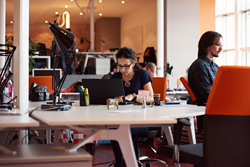 Modern technology is the key to productivity, revenue growth and business security. Investments in technology are among the best options to create business success.
Hoboken, New Jersey (PRWEB) November 13, 2015
A NYC area IT consultant and MSP, presents seven technologies that small business owners can implement to improve their competitiveness in 2016.
In a new article on the eMazzanti Technologies website, the company urges small business leaders to put the latest technology to work to improve customer service, increase productivity, enhance collaboration, and create a more professional image.
"Modern technology is the key to productivity, revenue growth and business security," stated Jennifer Mazzanti, President, eMazzanti Technologies. "Investments in technology are among the best options to create business success."
"Newer, faster technology elevates service to new levels. Transactions are completed faster, responsive websites attract more customers from all devices, and back-office tasks take less time, yielding happier employees and vendors. Increased security and fewer errors protect the reputation of the business," the article begins.
The article goes on to list Remote Access, Software Updates, Network Security, Disaster Recovery, CRM, Business Intelligence and inventory Management/POS as the technologies that small businesses will gain the most from by implementing.
Below are a few excerpts from the article "7 Small Business Technologies to Gain an Edge in 2016."
1. Remote Access
"Cloud applications provide remote access, but most small businesses still manage some applications on local servers. Windows Server 2012 with virtualization means that remote access to all of a company's applications and files is possible without moving them to the cloud."
2. Software Updates
"Software Updates such as Windows 10 and Office 2016 offer collaboration and productivity improvements that can provide an edge. In Office 2016, the Attach Recent Files feature in Outlook alone makes the upgrade a winner."
3. Network Security
"Modern business networks include remote access for employees, customer Wi-Fi, wireless printing and Mobile POS devices. Regrettably, only 9% of small businesses have wireless/mobile security. Current Internet threats and increasing HTTPS embedded attacks pose significant risks but only half of small business networks have Internet data security."
"A sure way to create a technology competitive advantage is to work with a technology partner whose business is helping small and medium businesses grow revenues with technology," the article concludes.
Read more small business technologies for 2016…
Related resource information:
Microsoft Makes Small Businesses 'Data Smart' With Power BI
Getting the biggest bang for your buck as a small business owner
About eMazzanti Technologies
eMazzanti's team of trained, certified IT experts rapidly deliver cloud and mobile solutions, multi-site implementations, 24×7 outsourced network management, remote monitoring and support to increase productivity, data security and revenue growth for clients ranging from professional services firms to high-end global retailers.
eMazzanti has made the Inc. 5000 list six years running, is a 2015, 2013 and 2012 Microsoft Partner of the Year, and a 5X WatchGuard Partner of the Year. Contact: Carl Mazzanti 844-360-4400 or emazzanti.net Twitter: @emazzanti Facebook: Facebook.com/emazzantitechnologies.