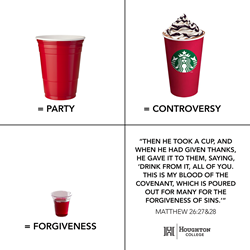 Even if there were zero actual Christians who had any problem with the cup, this 'controversy' pointed out that, in the eyes of many in our society, Christians have become 'resounding gongs and clanging cymbals
Houghton, NY (PRWEB) November 12, 2015
Houghton College, a small liberal arts Christian college in upstate New York, has had quite an impact on social media with their viral Facebook meme about the Starbucks red cup controversy. The meme has organically reached almost 400,000 people in just two days with almost 17,000 likes, comments and shares.
This past Tuesday, the college posted the meme on their Facebook page, http://www.Facebook.com/HoughtonCollege. It featured a red Solo cup, the red Starbucks cup, and a communion cup containing red wine along with a verse from the bible.
Under each of the cups were the words "= PARTY" (under the Solo cup), "= CONTROVERSY" (under the Starbucks cup), and "= FORGIVENESS" (under the communion cup). Alongside the communion cup was the biblical verse from Matthew chapter 26, verses 27 and 28: "Then he took a cup, and when he had given thanks, he gave it to them, saying, 'Drink from it, all of you. This is my blood of the covenant, which poured out for many the forgiveness of sins.'"
The meme was a commentary about the recent controversy surrounding Starbucks' decision to go with a simple red cup during the holidays instead of the cup designed with Christmas-themed symbols that the company had used in years past.
"Even if there were zero actual Christians who had any problem with the cup, this 'controversy' pointed out that, in the eyes of many in our society, Christians have become 'resounding gongs and clanging cymbals,'" commented Amy Tetta, social media coordinator for Houghton College and the creator of the meme. "We may mean well and feel we're fighting for godly and righteous things. But are we choosing to focus on what's truly important, and, maybe of greater significance, are we going about it in love?"
Starbucks has been accused of removing the Christmas pattern because the company "hates Jesus," at least according to the original complaint. The controversy was further fueled when presidential candidate Donald Trump suggested a boycott of the company.
The debate has spilled into a hashtag war on Twitter with those who are angry at Starbucks for the change using the hashtag #MerryChristmasStarbucks and those supporting the company using the hashtag #ItsJustACup.
Tetta sums it up this way: "I wanted to turn a message of controversy into a message of hope to share with others. There is immeasurable hope and joy to be shared, and that's the heart of Christmas, after all."