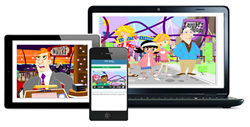 EASy Simulation® Virtual Customer provides IAAPA members with a fun and proven resource to attract and hire top performers who have what it takes to ensure a stellar guest experience. Joseph T. Sefcik, Jr., President and Founder
WINTER PARK, FL (PRWEB) November 13, 2015
Attraction and theme park operators, and the service businesses that support mass attendance venues, will find an exciting new hiring resource at IAAPA Attractions Expo 2015: EASy Simulation® Virtual Customer—the first mobile gaming technology designed specifically for the attractions and hospitality industry to attract, identify, and hire top performers.
The new EASy Simulation® Virtual Customer is being launched at this year's IAAPA Expo by Employment Technologies, the world's leading developer of employment simulations.
Applicants can now experience the highly interactive and engaging simulation on any Internet-enabled device including smartphones and tablets, a feature that will be particularly appealing to contemporary applicants.
Using high-end graphics and a compelling storyline, EASy Simulation® Virtual Customer immerses job applicants in realistic, face-to-face interactions with virtual guests and coworkers. The simulation assesses the abilities of applicants to handle real-life situations often found in theme parks and attractions, including the ability to:

Provide attentive, courteous customer service
Effectively recognize and resolve guest complaints
Cross-promote other guest experiences such as dining and shopping
Strengthen guest loyalty and intent to return for a future visit
The interactivity of EASy Simulation® Virtual Customer is a breakthrough in the hiring process for attraction and theme park operators. The new technology expands access to quality applicants and increases the ability of operators to identify those best suited to guest interaction.
"Beyond the rides and guest experiences, the success of every attraction or theme park is defined by attentive, courteous customer service," explains Joseph Sefcik, Jr., president of Employment Technologies. "Finding personnel who have outstanding interpersonal qualities relating to the overall guest experience, however, is always a challenge. EASy Simulation® Virtual Customer provides IAAPA members with a fun and proven resource to attract and hire top performers who have what it takes to ensure a stellar guest experience."
Employment Technologies is offering a special value to IAAPA members to "test drive" EASy Simulation® Virtual Customer, including a limited-time trial offer available through December 4. Information about the special offer is available at the Employment Technologies booth 564 in the Quite Zone at IAAPA Attractions Expo 2015.
About Employment Technologies
Employment Technologies is the pioneer and world's leading developer of employment simulations. An unprecedented five-time national "Top HR Product of the Year" award winner, Employment Technologies EASy Simulations® are proven to hire the best, cut turnover, reduce training time, and accelerate performance. EASy Simulations are designed for a variety of jobs and industries, including hospitality, attractions, retail, customer service, sales, contact centers, financial services, insurance, education, and more.
About IAAPA Attractions Expo 2015
IAAPA Attractions Expo 2015 is the premier conference and trade show for the $39.5 billion global amusement park and attractions industry. With its theme "NEW. NOW. NEXT!" the show takes place in Orlando, Florida, and will attract more than 28,000 industry professionals from more than 90 countries to the Orange County Convention Center from Tuesday, Nov. 17, through Friday, Nov. 20. IAAPA Attractions Expo is owned and produced by the International Association of Amusement Parks and Attractions (IAAPA).