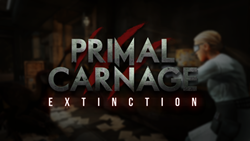 "PC:E is a jump-in-and-have fun shooter, and it's one of those genre gems that's a good fit for the PS4." - Adam Creighton, Director of Development for Panic Button
San Diego, Ca (PRWEB) November 17, 2015
Primal Carnage: Extinction has officially launched on PlayStation 4, bringing the franchise's exciting multiplayer game featuring human versus dinosaur class-based shooter action to the PlayStation Network. Not only can users play as their favorite dinosaur or mercenary, but they can cooperate with other players working together to defeat the opposing team in a variety of gameplay modes. Primal Carnage: Extinction launched strongly during October in celebration of International Dinosaur Month and is primed for a strong launch, capitalizing on the momentum of major themed film releases and dinosaurs clawing their way into the cultural gestalt.
Primal Carnage: Extinction is perfect mix of easy, fun and fast-paced action. It features unique dinosaur gameplay, specialized human classes, and an endless amount of hostile "how will we survive" gameplay situations that are created by the clashes between humans and dinosaurs. Users are able to choose from 10 dinosaur classes, including the mighty T-Rex, deadly Raptors, and high-flying Pteranadon following a survival of the fittest model.
The game features 12 levels with four different and exciting modes of carnage that people can play: Team Deathmatch, where both teams must compete for the most kills, Get To The Chopper, where humans capture several key locations to send for a helicopter rescue while dinosaurs are after them, Survival, a team experience where humans are against endless waves of AI dinosaurs, and Free Roam, a more peaceful mode that allows players to enjoy a role-playing atmosphere among a variety of landscapes, without worrying about time limits or kill counts. Whichever mode is chosen, the 'live together or die alone' mentality will allow gamers to instantly be transformed into dinosaurs if they choose, or humans if they dare, all in their quest to fight to the top of the food chain.
The Circle 5 Studios developer team picked up the game franchise from Lukewarm Media Inc., then brought Panic Button, an Austin based indie-studio well known for the Disney Infinity toys-to-life franchise for PS4 on board in June to bring Extinction to the PlayStation Network.
Director of Development for Panic Button, Adam Creighton said, "PC:E is a jump-in-and-have fun shooter, and it's one of those genre gems that's a good fit for the PS4."
Primal Carnage: Extinction is categorized as an Action/ Shooter, and rated Teen for blood, mild language and violence. The game is available for download in the PlayStation Store at an affordable $20 (http://bit.ly/PS4-PCE.)
As a distinctive take on the class-based shooter, users can play as humans and as dinosaurs, but can only play against those in the opposite species to hunt down their prey. Humans can use weapons among shooters to tranq, snipe, shoot, flame, or rocket their way to human superiority while dinosaurs rely on their natural abilities to attack, bite and physically take down enemies. Primal Carnage: Extinction is truly multiplayer, allowing up to 16 players hosted in online and LAN modes. It's available in 17 countries and in four different languages, English, Spanish, German and French, offering opportunities for everyone to jump right in and enjoy all the game has to offer. Additional releases in countries throughout Europe will be announced very soon and can be followed on PrimalCarnage.com.
About Primal Carnage: Extinction
Primal Carnage: Extinction is a class-based online multiplayer shooter built on the Unreal Engine, featuring fast-paced combat, diverse environments, and over-the-top action. On a mysterious island overrun with prehistoric monsters, you can choose to fight as a variety of legendary dinosaurs or to join the human mercenary team armed with a unique, distinctive, and destructive arsenal aimed at making these bloodthirsty beasts extinct once and for all. Will you use a sniper rifle or flaming chainsaw to bring these hulking creatures to their knees? Will you swoop, stomp, or chew through the puny human intruders? The only real question is, can you survive?
About Panic Button LLC
Panic Button was founded in 2007 by long-time, experienced game developers. The Austin, TX studio is driven to "Make Good Games with Good People," and specializes in challenging work-for-hire, co-development, and original intellectual property. Recent projects include the Disney Infinity toys-to-life franchise for PS4 and the PS Vita System; Octodad: Dadliest Catch for Wii U; and multiple unannounced projects. To learn more, visit panicbuttongames.com.