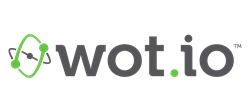 New York (PRWEB) November 12, 2015
wot.io™, the data service exchange™ for connected device platforms today announced a collaboration with PubNub's global Data Stream Network (DSN). The collaboration enables developers to build Internet of Things (IoT) solutions that process large volumes of IoT data from any device via a variety of data services. The combined offering will help customers derive even more value from their IoT data with unprecedented choice of processing options.
PubNub's DSN will become an integral part of wot.io's Ship IoT™ cloud services for enterprise and industrial channel partners and customers, based on a core set of pre-integrated data services. PubNub will serve as a key bi-directional communication layer that allows developers to connect their devices to the wot.io operating environment which gives them access to a broad selection of third party, best-in-class data services.
"We created the wot.io data service exchange to deliver a comprehensive prototyping-to-production solution,liberating engineers and product managers to deliver solutions to fulfill customers' requirements," said Tom Gilley, founder and CTO of wot.io. "We've chosen the data service providers for our exchange based on the quality of their product and their ability to deliver real solutions. PubNub's Data Stream Network is a very important data service to our mutual customers."
PubNub's DSN connects over 300 million unique devices globally and transacts over 750 billion messages a month. The network delivers ¼-second latency and 99.999% reliability across 14 data centers for thousands of customer applications around the world. With 75+ SDKs, the PubNub API supports most programming languages, device types and operating systems.
"PubNub gives customers unmatched ease-of-use and quality-of-service to power real-time communication capabilities in their apps," said Doron Sherman, vice president of business development at PubNub. "wot.io's data service exchange lets our customers easily integrate a wide variety of powerful data services so they can take full advantage of the opportunities that exist in the Internet of Things. We're looking forward to expanding our relationship with wot.io to advance realtime IoT app delivery at mass-scale."
About PubNub
PubNub is a secure global Data Stream Network (DSN) and easy-to-use API that enables its customers to connect, scale, and manage realtime applications and IoT devices. With over 70 SDKs for every platform, 250ms worldwide data transfer times, and scalability for hundreds of millions of devices, PubNub's unique infrastructure provides the ability to easily connect and operate world-class realtime applications and IoT devices. PubNub is headquartered in San Francisco. Visit PubNub online at http://www.pubnub.com, Twitter, LinkedIn, Vimeo and Facebook.
About wot.io
Founded in 2014, wot.io is the data service exchange for connected device platforms. wot.io enables the enterprise customer to derive significant value from their data while dramatically accelerating time-to-market for Internet of Things (IoT) and Machine to Machine (M2M) implementations. wot.io's data service exchange of best-in-class data services enables customers to focus on building their solution while freeing them from the time consuming effort of making contractual agreements and technically integrating each data service. Through choice, time-to-market and scalability we help our customers to drive ROI and increase revenue with their solution using analytics, business intelligence, data retention, device management, data management, monitoring, visualization, reporting, web API automation and other offerings.
wot.io and its logo, and data service exchange are trademarks of wot.io, Inc. All other company or product names, brands, trademarks, and logos are the property of their respective owners. All rights reserved.
###