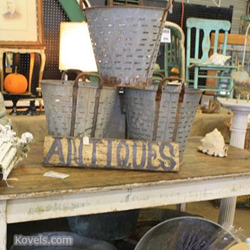 Cleveland, OH (PRWEB) November 13, 2015
Why should shopping for great antique and collectible bargains, chatting up dealers and munching on local snacks be limited to summer and fall months? The antiques experts at Kovels.com list 5 favorite winter flea markets that are worth a trip. Each is renowned for its scale, variety of items, negotiable prices and popularity among both locals and tourists. Best of all, they are opportunities to have fun, learn something new and knock some items off the holiday gift list.
1. Renninger's Antique and Collector's Extravaganza
20651 U.S. Hwy. 441, Mount Dora, Florida
Friday, November 20 to Sunday, November 22, 2015
Friday, January 15 to Sunday, January 17, 2016
Friday, February 19 to Sunday February 21, 2016
The weekly indoor and outdoor flea market and antiques center in Mount Dora, Florida, has more than 500 booths. But three times a year, it hosts a larger "extravaganza" with nearly 800 vendors from all over the country. They set up shop on the show field, under pavilions and in the antiques center. The show runs, rain or shine and claims to be "crazy big." For visitors who want to stay around, the city of Mount Dora is decorated with 2 million lights that are switched on Saturday, November 28, and many holiday events follow.
2. Rose Bowl Flea Market
Pasadena, California
Second Sunday of every month: December 13, 2015, January 10 and February 14, 2016
This gathering on the second Sunday of every month is considered to be one of the best on the West Coast. It attracts as many as 2,500 vendors and 20,000 shoppers. Find clothes, shoes, jewelry, sunglasses, ceramics, glass, furniture, pictures, crafts, keepsakes, art, fabric, bikes, costumes, music — every imaginable type of merchandise. It's open rain or shine. There's no admission after 3 p.m., plenty of free parking, lots of food from cheeseburgers to sushi, and even celebrity sightings.
3. Long Beach Antique Flea Market
Long Beach Veterans Stadium, 4901 E. Conant St., Long Beach, California
Third Sunday of every month: November 15, December 20, 2015, and January 17 and February 21, 2016
Adding to a collection? Searching for vintage clothing? Furnishing or decorating a house? With more than 800 sellers, chances are anything antique, collectible and vintage can be found at the Long Beach Antiques Flea Market. There's food and free parking, too.
4. Scott's Antique Market
Atlanta Expo Center, Atlanta, Georgia
Thursday, November 12 to Sunday, November 15, 2015
Thursday, December 10 to Sunday, December 13, 2015
Thursday, January 7 to Sunday, January 10, 2016
Scott's advertises itself "America's favorite treasure hunt." It's one of America's largest antiques shows, with over 2,000 booths both outdoors and in two buildings with a shuttle that runs back and forth. Browse through furniture, rugs, architectural elements, silver, copper, jewelry, pottery, glass, paper, and housewares for hard-to-find antiques and plenty of bargains.
5. Lincoln Road Outdoor Antiques and Collectibles Market
800, 900 and 1000 Blocks, Lenox Ave. thru Meridian Ave., on the Lincoln Rd. Mall, Miami Beach, Florida
Sundays, November 22 and December 6 and 20, 2015, January 10, 24 and 31, and February 14, 21 and 28, 2016
Every other Sunday, Lincoln Road Mall turns into an antiques and collectibles market that attracts all kinds of sellers, from yard sale peddlers to savvy dealers. Find a huge selection of quality items and bargain prices, including collectibles from the 1900s through 1960s, especially midcentury modern furniture, clothing and jewelry. A fun treasure hunt and a great walk!
About Kovels.com
Kovels.com, created by Terry Kovel and Kim Kovel, provides collectors and researchers with up-to-date and accurate information on antiques and collectibles. The company was founded in 1953 by Terry Kovel and her late husband, Ralph. Since then, Kovels' Antiques has written some of America's most popular books and articles about antiques, including the best-selling Kovels' Antiques and Collectibles Price Guide 2016. The website, Kovels.com, online since 1998, offers more than 1 million free prices, and includes a free weekly email, Kovels Komments. It gives readers a bird's-eye view of the market through the latest news, auction reports, a Marks Dictionary, readers' questions and answers and much more.
Contact Information:
Liz Lillis
216.752.2252
Pr(at)kovels(dot)com