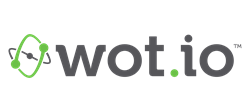 New York (PRWEB) November 12, 2015
wot.io, the data services exchange™ for connected device platforms today announced that Electric Imp is now offered in its Ship IoT Program. Ship IoT with Electric Imp enables enterprise developers with Electric Imp developer kits to build scalable Internet of Things (IoT) applications quickly by leveraging data services in the wot.io data service exchange. Developers can easily build prototype systems, test platforms, and bring their Ship IoT solution to production.
Electric Imp has developed an innovative WiFi connectivity technology for connected devices, allowing easy connectivity and enabling customers to get to market more quickly. Electric Imp offers a WiFi-enabled platform featuring fully integrated software, operating system, APIs, cloud servers and hardware. The wot.io data service exchange complements Electric Imp's platform and enables enterprise customers to derive the most value of their connected device data by offering access to the best-in-class third-party data service providers.
"Our platform is reliable and secure, empowering businesses and developers to deploy, manage and quickly scale their connected products and services to millions of users, and to ensure they stay reliable and secure for their entire lifetime." said Hugo Fiennes, co-founder and CEO of Electric Imp. "When we tested our technology in wot.io's ecosystem, it was immediately obvious that their data services could help our customers be more competitive."
"There's a natural synergy between Electric Imp and wot.io, because we're both deeply committed to helping enterprise customers get their IoT development projects deployed quickly," said Mitchell Golner, vice president of product management for wot.io. "Electric Imp's WiFi connectivity platform is a great fit for the wot.io ecosystem because it connects to our data service exchange in the cloud, making it simple for our mutual customers to build, quickly deploy and scale their IoT solutions."
"One of the most vexing problems with IoT platforms is the complexity of integrating complex data streams between the connected device platforms and enterprise systems," said Tom Gilley, founder and CTO of wot.io. "Traditionally, lots of data has been collected but very little of it has been put to use. We set out to solve that problem."
About Electric Imp
Electric Imp offers an innovative and powerful platform that makes it simple to connect devices to the Internet. Our unique WiFi-enabled solution - featuring fully integrated hardware, software, OS, APIs and cloud services - dramatically decreases cost and time to market. The Electric Imp platform is reliable and secure, empowering manufacturers and developers to manage and quickly scale their connected products and services to millions of users.
Electric Imp, founded in 2011, is located in Los Altos, California and Cambridge, England.
About wot.io
Founded in 2014, wot.io is the data service exchange for connected device platforms. wot.io enables the enterprise customer to derive significant value from their data while dramatically accelerating time-to-market for Internet of Things (IoT) and Machine to Machine (M2M) implementations. wot.io's data service exchange of best-in-class data services enables customers to focus on building their solution while freeing them from the time consuming effort of making contractual agreements and technically integrating each data service. Through choice, time-to-market and scalability we help our customers drive ROI and increase revenue with their solution using analytics, business intelligence, data retention, device management, data management, monitoring, visualization, reporting, web API automation and other offerings.
wot.io and its logo, and data service exchange are trademarks of wot.io, Inc. All other company or product names, brands, trademarks, and logos are the property of their respective owners. All rights reserved.
# # #