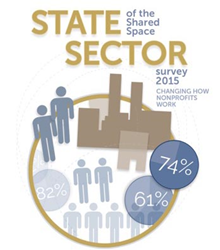 Shared Space is a financially sustainable solution. 77% of centers have revenues that meet or exceed their expenses, with 56% running a surplus.
Denver, CO (PRWEB) November 19, 2015
Today, The Nonprofit Centers Network (NCN) is releasing the first of 4 reports on findings from a survey that compiles insights about the financial best practices, staffing practices, and consequent increased impact reported by nearly 150 nonprofit centers in the U.S. and Canada. The 2015 survey follows-up NCN's 2011 Measuring Collaboration report, expanding on findings about community needs while building a compelling case for support of shared nonprofit work spaces that have proven an increased positive impact in their service communities.
In the 4-year gap between reports, the number of known nonprofit centers operating in North America has nearly doubled from 212 to 393 centers, giving testament to the sentiment that mission-aligned nonprofits occupying shared work spaces is the "new normal". Collectively, the nonprofit shared space sector encompasses approximately 13.75 million square feet of workspace, houses nearly 28,000 employees, and serves nearly 99,000 people per week. Operating out of a nonprofit center connects both resident organizations, as well as their client base, to notable benefits.
Indeed, the 2015 State of the Shared Space Sector reports that 82% of Executive Directors surveyed responded that their organizations have seen improvements in their overall ability to achieve goal, noting greater stability of operational costs, improvements in organizational credibility, and growth in program size and scope. The result? An invaluable resource for nonprofit clients, "who can remain anonymous in the building, who cannot only be referred to another agency- but walked over to connect with them."
The Nonprofit Centers Network strives to support the efforts of shared space leaders who help to lift the burden of property management and back-office administrative services from the shoulders of nonprofit organizations so that they can better focus on executing their mission. Both the 2011 Measuring Impact report and the new 2015 State of the Shared Space Sector report are designed to capture and define the impact of nonprofit shared spaces while garnering widespread recognition that nonprofit centers are viable social enterprises.
Access the full report and infographic at http://www.nonprofitcenters.org/sector.