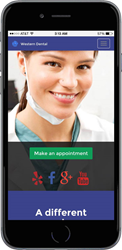 A website is the main channel that should be utilized in dental marketing to bring in new patients.
San Francisco, California (PRWEB) November 23, 2015
Doxi lnc. released a new program for dental offices today to modernize their existing website or to create a new website for dental practices that currently do not have a website. Doxi is absorbing the cost of the design and operation of the website to improve the existing online infrastructure of dental offices. The improvements will enable Doxi to create premium services to enhance patient experience in the future.
A website (or an app) is quickly becoming the first point of contact of a dental office with a potential patient. It is the main channel that should be utilized in dental marketing to bring in new patients and to increase the satisfaction of existing ones. Having a website just for the sake of having one is missing out on the opportunity that a business owner would otherwise have to impress a potential customer through the power of "the first impression". Many dental practices today either don't have a website or have a website that is static and doesn't convert their visitors to patients by offering a primary call-to-action on the page. Doxi is now offering a free service to help dentists with dental internet marketing by creating and hosting a modern, well-researched dental website for their practice that focuses on maximizing the conversion of visitors to patients.
A Doxi dental website is engaging for patients and provides them with the information that they need quickly. It also enables dental offices to control their online presence on their main website by automatically integrating the content of their social channels on Yelp, Google+, Facebook and YouTube into their website.
Dentists, or the dental business managers, can get their website up and running in 30 seconds by visiting http://www.doxi.io/ and entering the information about their business. They can then customize their website by logging into the easy non-technical admin-interface and making changes to the content and layout of the website. Dental practices that already have a website can automatically convert their website to a Doxi site to modernize it by making it mobile-friendly and optimized for search-engines.