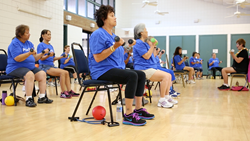 "Through MFN, ASH-affiliated fitness facilities and instructors can find increased opportunities to meet older adults and provide them with tailored health and fitness programming."
San Diego, CA (PRWEB) November 24, 2015
American Specialty Health Fitness, Inc and the Silver&Fit® Exercise and Healthy Aging Program have announced their endorsement of the Medical Fitness Network (MFN), a national health and fitness provider referral service.
"American Specialty Health Fitness is proud to have the MFN as one of our endorsed organizations," said ASH Fitness Vice President Brett Hanson, MBA, MBF, DFSS, NASM-SFS. "The MFN membership provides increased opportunities for our ASH Fitness facilities and instructors by providing professional website listings and specialty education training discounts from over 50 leading fitness organizations. ASH Fitness and MFN share a mutual goal of providing quality health and fitness programming to meet the unique needs of older adults."
"The Medical Fitness Network is excited to partner with American Specialty Health Fitness and the Silver&Fit program," said MFN President and Founder Lisa Dougherty. "They provide outstanding fitness services to our aging populations through a national network of contracted fitness facilities. Our goal is to help qualified individuals with health challenges find local fitness facilities and instructors in the Silver&Fit network."
Since 2007, the Silver&Fit program has offered health plans evidence-based fitness and health education activities for their Medicare-eligible members and group retirees. The program provides eligible members with a fully or partially subsidized fitness membership through a broad network of more than 11,000 contracted fitness facilities nationwide, including national chains and YMCAs, as well as smaller, local community exercise centers. Silver&Fit reimburses fitness facilities on a monthly basis for all eligible and participating members.
The Silver&Fit Signature Series Classes® offer three levels of group exercise programming created to target participants across a range of fitness levels—from those who may require chair exercises to athletic, older adults who are already fit and active. Additional Silver&Fit approved exercise class formats in the categories of Strength/Cardio, Dance, Yoga, Tai Chi, Aqua and Fall Prevention are offered through endorsed organizations. The program also gives members access to other facility amenities like fitness machines, weights, whirlpools and saunas.
About Medical Fitness Network (MFN)
The mission of the Medical Fitness Network (MFN) is to improve the quality of life for those with chronic medical conditions or who need pre or postnatal care by connecting them to the most qualified fitness & healthcare professionals. MFN provides a free national network of exemplary fitness and healthcare professionals with a background in treatment and rehabilitation of various diseases and medical conditions. For more information, visit http://www.medicalfitnessnetwork.org.
About the Silver&Fit® Exercise & Healthy Aging Program
The Silver&Fit® program is an exercise and healthy aging program providing unique, evidence-based fitness and health education activities for Medicare beneficiaries and group retirees. Silver&Fit members have access to: no-cost or low-cost memberships at a participating, contracted fitness club or exercise center, or to the Silver&Fit Home Fitness program for those who prefer or need to work out at home; SilverandFit.com, a website providing health tools and resources specifically designed for older adults; The Silver Slate® newsletter; and a toll-free customer service hotline. For more information, call 800-848-3555. Follow us on Facebook at http://www.facebook.com/SilverandFit, YouTube at http://www.youtube.com/silverandfit, Pinterest at http://www.pinterest.com/silverandfit, Twitter at @SilverandFit and Instagram at @SilverandFit.
The Silver&Fit program is a product of American Specialty Health Fitness, Inc., a subsidiary of American Specialty Health Incorporated (ASH).
About American Specialty Health
American Specialty Health Incorporated (ASH) is one of the nation's premier independent and privately-owned specialty health services organizations, offering specialty health provider networks and programs, fitness and exercise programs, and population health solutions for health plans, insurance carriers and employer groups. Operating from offices in Carmel (Indianapolis), Ind., San Diego, Calif., Southlake (Dallas), Texas, and Columbia, S.C., ASH has more than 1,200 employees and administers services for more than 34 million members nationwide. Additional products offered through ASH and its subsidiaries include Healthyroads®, FitnessCoach™, Active&Fit®, Silver&Fit® and others. For more information about ASH, visit http://www.ashcompanies.com or call 800-848-3555. Follow us on LinkedIn or Twitter at @ASHCompanies.
###