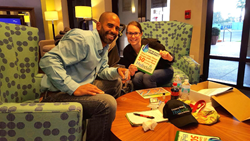 Ocala, FL (PRWEB) November 16, 2015
Florida based Ecologel Solutions, LLC is teaming up with the Sustainable Heroes organization to create an outdoor living space for homeless families. Located in Escondido, California, the Aster Gardens project was created for Interfaith Community Services, which provides a wide range of programs designed to empower hungry, homeless and low-income community members to begin a pathway toward self-sufficiency.
Ecologel first heard about the project from Sustainable Heroes team member Tylee Sewell, a horticulturalist and edible landscape designer, who was recently featured on the cover of Lawn and Landscape Magazine. "Tylee put us in touch with HGTV and DIY Network Celebrity Landscaper, and fellow Sustainable Hero, Ahmed Hassan," said Sarah Spatola, Marketing Manager for Ecologel Solutions, LLC. "When I met with Ahmed to talk about this project, I was so impressed with his passion, that it reinforced our decision to offer our help and participation," said Spatola.
According to Ahmed, "The Sustainable Heroes organization has made the commitment to rebuild and improve the grounds at [Interfaith's] main transitional housing unit where they provide services and life skills for veterans, seniors and families that would otherwise be homeless." Each year, Interfaith Community Services serves more than 16,000 community members by providing basic needs and nutrition support, social services, shelters and housing, employment development, youth programs, seniors services, veterans programs and addiction recovery support.
Sustainable moisture management solutions are nothing new for Ecologel. In fact, with their flagship technology Hydretain, they've been promoting and supporting landscape sustainability and water management initiatives for about 20 years. Hydretain®, also available as Moisture Manager™ from SiteOne Landscape Supply (formerly John Deere Landscapes), is a natural blend of compounds derived from plant extracts that reduces the overall watering requirements of plants, shrubs, trees, vegetables and turf by as much as 50% or more. "This patented technology manages soil moisture by converting humidity within the soil into plant useable water droplets", said Richard Irwin, President of Ecologel. "Safe for people and pets, it's the perfect way to protect an installation project where heat stress or drought conditions exist," said Irwin.
Ecologel has donated enough Hydretain to treat the newly installed Aster Gardens landscape, including all trees, shrubs, perennials, and ornamental grasses. "A host of volunteers, community and corporate partners will join together on November 21 and 22 to create this amazing outdoor landscape/foodscape and congregating space for the parents, children, families, veterans and countless others served by Interfaith," said Hassan.
To offer help or sign up, simply click here: http://bit.ly/gardensignup.
Founded in 1991, Ecologel Solutions, LLC is an Ocala, Florida-based manufacturing company specializing in the production of environmentally responsible technologies for commercial and residential application in the areas of agriculture, lawn care and surface coatings. Ecologel's products include technologies aimed at drought mitigation, water conservation and management, dust control, plant nutrients, algae blockers and advanced hormone bio-stimulants for the turf care industry. Visit http://www.ecologel.com or http://www.hydretain.com for more information.
Hydretain® is a registered trademark of Ecologel Solutions, LLC in the United States and/or other countries. The names of actual companies and products mentioned herein may be the trademarks of their respective owners.