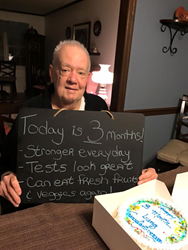 "I can't even tell you what this transplant has meant to our family," Hugaboom said.
NEW PROVIDENCE, NJ (PRWEB) November 13, 2015
For nearly a decade, Jenn Hugaboom of Sparta watched her father's health progressively worsen as emphysema and COPD destroyed his lungs. The former Wall Street businessman became virtually housebound and required 24-hourfeeds of oxygen.
His only chance was a lung transplant. After four false alarms, in which the family heard a life-saving organ was available, Bill Heinz finally received the lung transplant in August that has given him a second chance at life. He is once again driving, cooking, shopping and exercising.
"I can't even tell you what this transplant has meant to our family," Hugaboom said. "My father has a whole new life, and, as his caregivers, we have our lives back now, too."
Hugaboom and her family will talk about their journey at NJ Sharing Network's first-ever Symposium on Organ & Tissue Donation. The symposium will be on Saturday, November 14, at the Renaissance Woodbridge Hotel, 515 US Highway 1 in Iselin. The event is free, but registration is required at http://www.NJSharingNetwork.org/Symposium.
The multi-disciplinary symposium is designed to empower those interested in organ and tissue donation to gain knowledge, share experiences, meet members of the transplant community, and learn about innovative and best practices. Select Continuing Education (CE) credits are available for nurses and social workers.
The symposium will include more than a dozen sessions over a 6 ½ hour span, focusing on a range of topics, such as the laws governing organ and tissue donation and the process of organ and tissue donation.
Anyone connected to the mission of organ and tissue donation is welcome to attend, including donor families, community advocates, faith-based leaders, attorneys, first responders, social workers, nurses, physicians, organ and tissue recipients and funeral directors. NJ Sharing Network volunteer certification classes will also be offered.
There is a continental breakfast from 7:30- 9 a.m., with events and presentations from 9 a.m. until 3:30 p.m.
"Our symposium is a one-stop location to learn the many facets of organ and tissue donation," said Joe Roth, President & CEO of NJ Sharing Network."So many people find their lives touched in some way by our life-saving mission and want to learn more."
One highly-anticipated session includes the Heinz and Hugaboom families, who will share their story and explain that nearly 5,000 people in New Jersey are waiting for life-saving organs. Since her father received his transplant, Hugaboom said, she feels compelled to share her story and has been eagerly speaking at schools and community groups.
Before Bill Heinz received his transplant, his family worked to raise awareness of the need for organ transplants. Jenn and her husband, Tom, became certified volunteers with NJ Sharing Network to support her father and the organization's mission. Now, they continue to give back.
"Anytime NJ Sharing Network says someone is looking for a speaker, we are there," she said. "We are just so grateful and feel we can honor my father's donor by spreading the word and encouraging other people to register to be organ and tissue donors."
Heinz said he is tremendously grateful for his second chance at life. Although he does not know the identity of his donor, he has penned letters to the donor's family to express his thanks and explainhow his life has so drastically changed.
"I am feeling great and going to rehab twice a week. I am exercising again. I am getting out again," he said. "It's all been amazing."
About NJ Sharing Network
NJ Sharing Network is a non-profit, federally designated organization responsible for the recovery and placement of donated organs and tissue for New Jersey residents in need of life-saving transplants. NJ Sharing Network partners with Donate Life America, a not-for-profit national alliance that drives communities to increase their numbers of registered donors. NJ Sharing Network honors those who gave, pays tribute to those who received, offers hope to those who continue to wait, and remembers the lives lost while waiting...for the gift of life.
To learn more, get involved, and register as an organ and tissue donor, visit http://www.NJSharingNetwork.org.
Register as an organ and tissue donor in just 60 seconds! NJ Sharing Network is the nation's first OPO to launch Donate Life America's new national, mobile-friendly registry. Visit our website and click "Register as an organ and tissue donor." Then share your decision with friends and family. Ninety-five percent of Americans favor organ donation. The new registry lets you say "Yes to Life!" with just a few clicks.