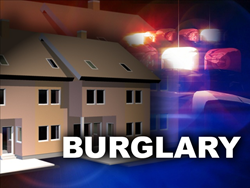 To ensure peace of mind while enjoying turkey and pumpkin pie with loved ones, make sure that you take steps to protect your home in advance.
Las Vegas, NV (PRWEB) November 17, 2015
Thanksgiving week is the busiest travel week of the year. While people have family, friends and a fabulous meal on their minds, home burglars are looking for the perfect crime while you are away. AlertID, the free nationwide safety app, offers great tips to help homeowners secure their homes before they leave for the holidays.
"To ensure peace of mind while enjoying turkey and pumpkin pie with loved ones, make sure that you take steps to protect your home in advance," said AlertID Founder, Keli Wilson.
Protecting your home from burglary can be done quickly and easily by following these tips provided by AlertID:

Be aware of potential dangers in the neighborhood: Sign up for a free AlertID account at http://www.AlertID.com and download the app to stay up-to-date on home and vehicle burglaries near your home and your destination. Receive and post information on AlertID's virtual neighborhood watch about suspicious activity in your neighborhood while getting to know neighbors on AlertID.
Arm your home– Criminals are less likely to try to break into a home with an alarm. Be sure to post alarm company stickers on windows and doors that will easily be seen.
Keep all points of entry locked: Update locks with quality keyed knobs and dead-bolts. Place a dowel in the track of sliding doors and windows to prevent someone coming in while you're away.
Make it appear as though you are home: Indoor and outdoor lighting gives the impression that the home is occupied and eliminates outdoor hiding places. Set random timers for one or more lamps to make it look like someone is home. Consider installing motion-sensing lights, which turn on automatically as someone approaches the house.
Secure spare keys: Leave spare keys with a trusted neighbor or family member and never hide them on the property. Burglars have more experience looking for keys than we do at hiding them.
Suspend Newspapers and Mail: A pile of newspapers and a full mailbox is a sure sign that you are not home. Suspend services while traveling.
Social Media Safety: Don't post on social media that you are leaving town, and wait to post vacation photos until after you return from your trip.
For more tips on how to protect your home while you are away, please visit https://www.alertid.com/search/burglary.asp.
About AlertID
AlertID, the nationwide neighborhood safety network, is available online as well as on your smartphone to help protect families by providing the information you need to keep your kids safe. Members are able to view an interactive map displaying crimes and sex offenders currently in their selected neighborhoods and can receive alerts and information for multiple locations such as their homes, schools or offices that include: law enforcement emergency alerts, crime and sex offender alerts, prevention tips and much more. Additionally, the app acts as a virtual neighborhood watch where members can share photos and information regarding suspicious activity with neighbors. The AlertID mobile app is available for download on iTunes or the Android market. To sign up for an AlertID account or for more information, please go to http://www.AlertID.com.